Hard Working Trucks takes a look back at trucks and vans we test drove during 2016. Links are provided below and appear in order of publication.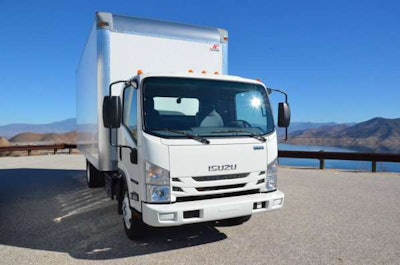 Jan. 3: Isuzu NRR
If you're looking for heavier haul capabilities but still need an urban traffic fighter, Isuzu's NRR should be on your shopping list. The 5.2-liter diesel delivers 215 horsepower and 452 foot-pounds of torque. We take the beefiest Isuzu cabover on a 200-mile plus test drive up and around the California coast.
https://www.hardworkingtrucks.com/vocational/article/15048348/test-drive-2016-isuzu-nrr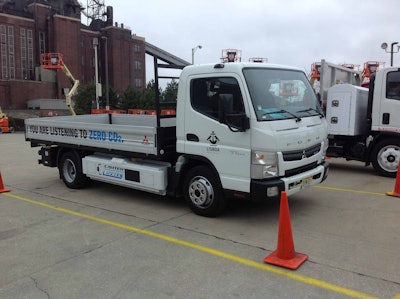 March 7: Mitsubishi-Fuso Canter E-Cell
For the first time in the U.S., members of the media and others at the 2016 Work Truck Show have a chance to drive the all-electric Mitsubishi-Fuso Canter E-Cell cabover. The 110-kW emotor (150-hp equivalent) quickly snaps to attention and whips out its rated 479 foot pounds of torque around the Indianapolis Convention Center.
https://www.hardworkingtrucks.com/trucks/article/15048582/test-drive-mitsubishi-fuso-canter-all-electric-truck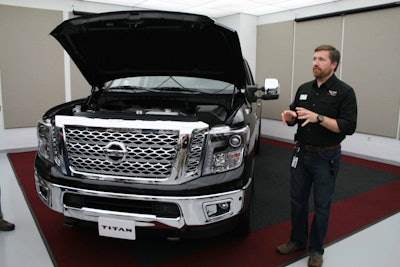 May 2: 2016 Nissan Titan XD gas V8
Decisions, decisions, decisions. Nissan's new 5.6-liter Endurance gas V8 gets dropped into a 2016 Nissan Titan XD and we get to see what it's like. The 390-hp engine offers 80 more horses than its counterpart—the Cummins 5.0-liter turbo diesel—but at 401 lb.ft. of torque, it's a far cry from the diesel's 555 foot pounds. While towing power drops, the truck's payload goes up with the gas V8. It's also faster off the line and about $4,000 cheaper than the diesel option. Hmmm…something to think about.
https://www.hardworkingtrucks.com/trucks/pickups/article/15048735/ride-impression-nissan-titan-xd-with-gas-v8-offers-more-acceleration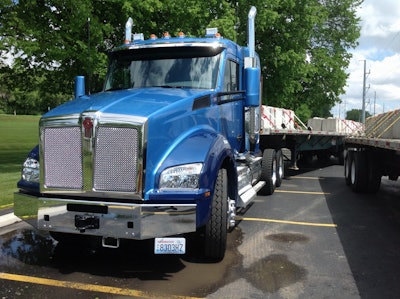 May 25: Kenworth T880 40-inch sleeper
What's it like hauling 55,000 pounds of concrete blocks with Kenworth's new T880 40-inch sleeper? Smooth, thanks in large part to the MX13 engine and Eaton Fuller 18-speed vocational Ultrashift Plus automated transmission. We take this good-looking, bright blue workhorse for a ride near Kenworth's truck plant in Chillicothe, Ohio.
https://www.hardworkingtrucks.com/trucks/article/15048796/test-drive-kenworths-new-t880-40-inch-sleeper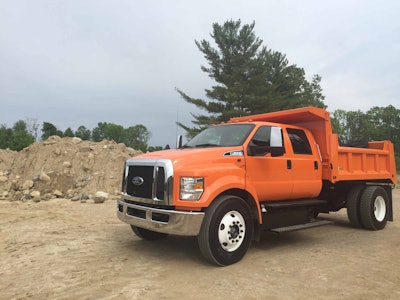 June 16: 2016 Ford F-650 dump truck
Ford's Super Duty trucks come in all kinds of shapes and sizes, including a stout 2016 F-650 dump truck which when paired with a 320-hp Triton V10 gas engine provides a surprisingly quiet ride reminiscent of the automakers' standard pickups. This generation F-650 gets a facelift that puts exterior styling and interior comforts more inline with the rest of the Super Duty lineup.
https://www.hardworkingtrucks.com/vocational/article/15048865/test-drive-ford-f-650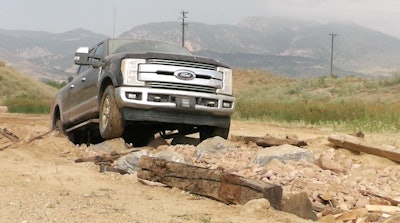 Aug. 8: 2017 Ford F-250 FX4
The high-strength, aluminum-alloy body new for the 2017 Super Duty line-up shed roughly 700 pounds. Engineers took advantage of the weight loss and poured about 350 pounds back into the truck by beefing up such things like the chassis, the axles, the suspension, the driveline and the brakes. We take the latest F-250 FX4 off-roading at on old mine in Colorado and get familiar with the truck's new cameras and guidance system along with its 6.7-liter turbo diesel engine and TorqShift 6-speed automatic transmission.
https://www.hardworkingtrucks.com/trucks/pickups/article/15049014/2017-ford-super-duty-takes-on-colorado-off-road-course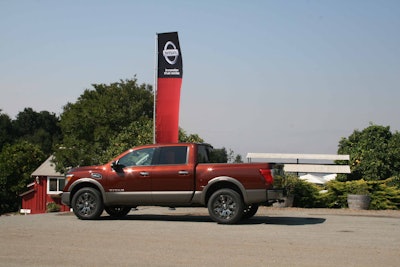 Aug. 15: 2017 Nissan Titan
The 2017 Nissan Titan is coming on strong with more power, new features, plenty of comfort and the best warranty in the business to back it all up. Nissan's new 100,000-mile, 5-year bumper-to-bumper warranty for its full-size pickups is sure to turn some heads. We drive the truck on some winding, steep grades in Carmel, Calif. and put the 390-hp 5.6-liter Endurance V8 to the test.
https://www.hardworkingtrucks.com/trucks/pickups/article/15049029/test-drive-impression-2017-nissan-titan
Aug. 15: 2017 Nissan Titan Pro-4X
A wild fire in northern California that had been raging for days transformed the sky into a yellow spectacle that sprinkled ash onto the 2017 Nissan Titan Pro-4X Crew Cab 4×4 trucks.
We were in no danger, but it lent an ominous edge to the off-road event in Carmel. The course provided plenty of chances to test the pickup's hill descent feature, obstacle-sensing sonar, frame articulation and suspension.
https://www.hardworkingtrucks.com/trucks/pickups/article/15049032/2017-nissan-titan-pro-4x-takes-on-tough-terrain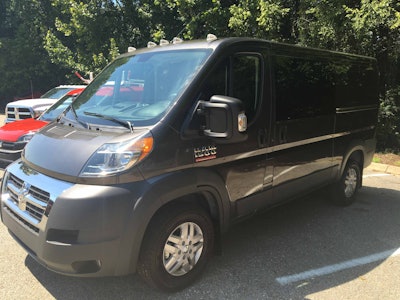 Sept. 1: 2017 Ram ProMaster
Ram's ProMaster, mostly inspired by its Italian sibling Fiat Ducato, is coming off a banner year thanks to the U.S. Postal Service which recently received the last of a 9,000 unit order only to request 3,000 more. The unibody ProMaster, which is available in 14 different configurations, was first launched in 2013 as a 2014 model and has helped Ram seize upwards of 15 percent market share since the Ram Commercial brand was born in 2012…
https://www.hardworkingtrucks.com/vans/article/15049065/we-test-drove-a-2017-ram-promaster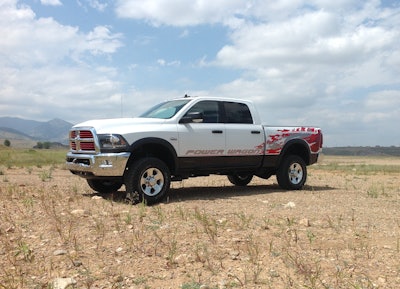 Sept. 5: 2016 Ram Power Wagon
Ram's star 4×4 takes on an off-road course in Colorado and then hits the highway for a 670-mile run to Dallas. A powerful and responsive 6.4-liter HEMI engine delivers up to 410 horsepower and 429 lb.-ft. of torque as 33-inch Goodyear Wrangler Duratrac provide for a smooth ride on and off-road.
https://www.hardworkingtrucks.com/trucks/pickups/article/15049072/test-drive-2016-ram-power-wagon-stands-tall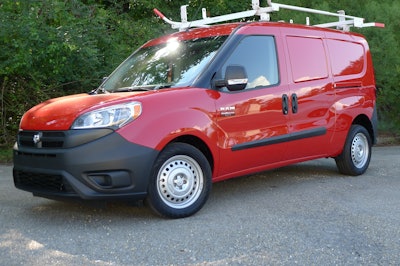 Sept. 7: 2016 Ram ProMaster City
The ProMaster City Tradesman is the smallest commercial van Ram offers. That size range may not fit every need, but if your work calls for a lot of start and stop deliveries, difficult city traffic, or if you've come to realize that total cost of ownership is important, the City Tradesman is worth a close look…
https://www.hardworkingtrucks.com/vans/article/15049078/test-driving-rams-promaster-city-tradesman-cargo-van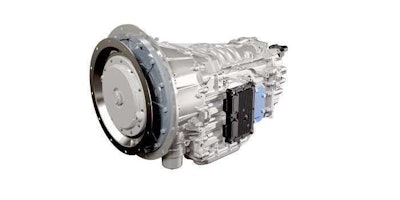 Oct. 13: Eaton 7-speed Procision automatic transmission
Eaton's 7-speed Procision automatic transmission was designed to compete with Allison's 2000 Series RDS, the market leader in the medium duty vocational truck segment for automatic shifting. With driver comfort now an integral part of calculating a fleet's total cost of ownership, Eaton designed its dual clutch model to be more efficient and in-cab friendly than anything else currently available. We get more familiar with Procision in a Navistar DuraStar equipped with Cummins' ISB 6.7-liter diesel engine.
https://www.hardworkingtrucks.com/trucks/product/15049180/test-drive-eaton-procision-transmission
Dec. 12: 2017 Honda Ridgeline
Following a two-year absence, the Honda Ridgeline makes a comeback for model year 2017. The unibody pickup shares its chassis with the Honda Pilot SUV, and its 3.5-liter i-VTEC V6 engine, and pretty much everything from the front bumper to the back of the seats, but the back half of the vehicle – the part that makes it a truck – is distinctly truck-like.
https://www.hardworkingtrucks.com/trucks/pickups/article/15049328/we-tested-a-2017-honda-ridgeline-for-a-week