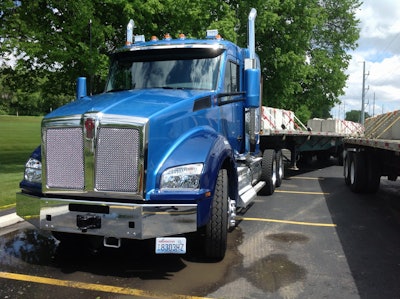 You had to wait your turn.
Kenworth recently gave the media its first chance to test-drive the new T880 40-inch Sleeper Tractor at its assembly plant in Chillicothe, Ohio and getting that chance could require a little patience.
The bright blue truck with twilight blue fenders and chrome trim was a head-turner. That became even more evident after the sun finally broke through those dark southern Ohio skies.
Seating was comfortable, thanks to Kenworth's proprietary air suspension seats which adjust for weight. It made the ride on those bumpy roads a lot smoother.
The panoramic windshield and extra-large dual glass side mirrors provided an ample view of the road and surrounding traffic. To improve visibility even more, the T880 can be ordered with triple rear windows.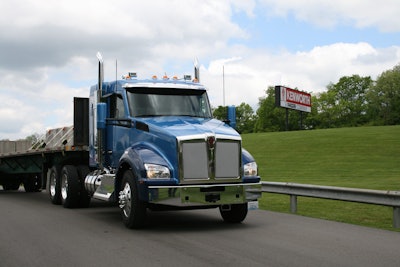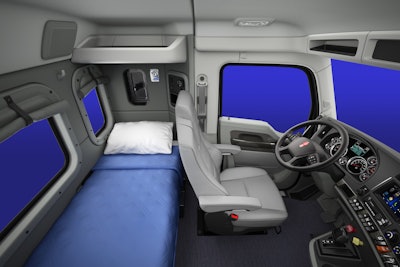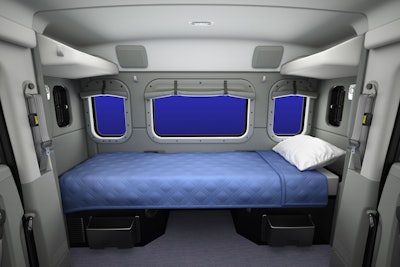 The T880's MX13 engine coupled with an Eaton Fuller 18-speed vocational Ultrashift Plus automated transmission made easy work out of 55,000 pounds of concrete blocks piled on a flatbed trailer.
The Ultrashift Plus smoothly transitioned from one gear to the next, leaving both hands to manage the wheel and navigate traffic.
While the transmission takes the labor out of shifting, it is programmed to shift at optimum RPM levels to save on fuel. In short, don't expect it to get up and go through yellow lights. Of course, when you're hauling a heavy load—automated transmission or otherwise—off-the line speed is something that just doesn't come to mind. Still, you can switch to manual mode if preferred.
To assist in curbing, creeping, paving and spreading, the Ultrashift Plus features extended low and reverse gear ratio coverage. Deep reduction and fast reverse gearing are additional hallmarks, along with auto neutral and hill start aid.
When taking on PTO minimum and maximum drive gears, the transmission utilizes all transmission gear ratios.
Engine Options
The 40-inch sleeper with a 219-inch wheelbase has been designed with weight savings in mind. The aluminum cab coupled with stamped aluminum doors sheds some pounds. Compared to Kenworth's mid-size 52-inch sleeper, the 40-inch cab shaves off an additional 260 pounds. To lighten the load by an additional 400 pounds, customers can substitute the new MX11 engine for the MX13.
The MX11, introduced in January, has 430 horsepower and 1,550 foot pounds of torque. The MX13, by far the more popular engine of the two, comes in at 500 horsepower and 1,850 foot pounds of torque.
"Over the past couple of months, the MX11 has already increased to about 5 percent of our T880 sales," Kurt Swihart, Kenworth's director of marketing, said on the morning of the May 18 editor test drive event.
"So, we're very pleased with how that has launched and how customers have been accepting the MX11 engine."
Most MX11 engines sold to date are being used in concrete applications. Swihart said the engine is also ideal for dump applications, bulk haul, LTL, pickup and delivery and regional haul—any application where customers are looking for anyway to reduce vehicle weight. A 180 gallon fuel tank and a 21 gallon DEF tank keep either engine running for the long haul.
A look inside
The interior of the 40-inch sleeper is spacious and includes 22 cubic feet of storage. The two front seats are 23 inches apart. The sleeper can accommodate a 24-inch mattress. Lighting and climate control are provided next to the bed.
Air suspension seats notwithstanding, overall, the interior projects a sort of toned-down, back-to-basics utilitarian look. Some truck dashes can be intimidating with plenty of switches, knobs and gauges. Kenworth's 40-inch sleeper dash looks very user friendly. This could go over well with new drivers.
For those that hunger for more technology and want to keep their finger on every pulse, the 40-inch sleeper can deliver. Besides having the usual array of gauges right above the steering wheel, drivers can pull up those gauges and more on a dash-mounted LCD screen. The gauges on the screen can be enlarged, making them easier to read than traditional dash mounted gauges.
Considering that life on the road usually entails traveling with plenty of electronic devices, I was surprised to see that USB charging ports were not readily available on the dash.
Mounted just below the headliner was a Cobra 29 Sound Tracker with a weather radio feature. I was told that factory installed CB options were limited to two choices: the Cobra 29 with or without weather radio. Doubtless, the Cobra 29 is a reputable radio and offers nice features like RF gain, dynamic and SWR calibration.
Options and features
The fenders on the 40-inch sleeper can be quickly unbolted and traded out with new ones in the event that they become damaged. The road is easily lit with Kenworth's best-in-class complex reflector head lamps.
The suspension and chassis of the T880 is borrowed from the T800. It can be spec'd with various axles and suspensions. The truck made available to editors featured Meritor axles in the front (MFS14) and rear (RT46-160P). Taperleaf 14.6K suspension was found in the front, while Hendrickson Primaax EX (462 46K) handled the rear.
Alcoa wheels were wrapped with Goodyear G751 MSA tires in the front and Goodyear G182 RSD tires in the rear. Bendix Air Disc brakes had no problem bringing the rig to a quick, smooth stop.
New options for the T880 include a clear back-of-cab, DEF tank, which opens up the rails for various component mounts. The DEF tank is mounted under the cab instead.
"We also launched a new suspension option from Hendrickson called the Ultimax," Swihart said.
The Ultimax is a heavy duty suspension system rated for applications above 46,000 pounds. "It's for customers who are looking for very good roll stability, high center of gravity types of applications, so we think that's going to be a nice option for vocational customers as well."
Built on the success of the T880
The 40-inch sleeper went into production in March. It joins Kenworth's other sleepers, a mid-size 52-inch and full-size 76-inch model.
"It's predominantly a vocational type of sleeper targeted at oil field industry, towing and recovery and bulk haul applications," Swihart explained.
"We think it's going to be a great sleeper for customers in those applications."
Though Swihart said that Kenworth will still continue manufacturing the narrower T800, he said that customers are continuing to see the advantages of the wider T880–the company's vocational flagship which, after beginning production about 2 ½ years ago, now accounts for about 30 percent of total sales.
"We're very pleased with how quickly customers have transitioned over to the T880," Swihart explained while sitting at a large conference table alongside trucking media editors. "There are some customers out there that prefer more of that narrow cab platform and so we would like to continue to keep offering it to continue meeting our customers' needs.
"But I would say that the vast majority of our customers understand the value of the T880: the panoramic windshield, the visibility, the wider cab, the technologies that go into the cab, the overall amenities, and so we really see that pendulum swinging over to the T880."