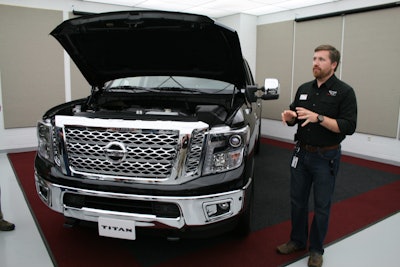 Nissan's recent ride impression event for the 2016 Titan XD V8 gas model was a reminder of the company's goal to reach a broader range of truck customers, including those looking for more responsive acceleration – even if it means giving up torque along the way.
Nissan's new 5.6-liter Endurance gas V8, which can be spec'd in place of the Cummins 5.0-liter turbo diesel in the 2016 Titan XD, offers 390 horsepower, which is 80 more horses than its diesel counterpart. However, Endurance's torque at 401 foot pounds is noticeably less than the diesel's stout 555 foot pounds.
"The diesel that you drove before is what we call our tow monster—the big Cummins engine," Rich Miller, Nissan's senior manager of truck and SUV product planning, said before the Titan XD V8 gas ride impression last week at Nissan's North America headquarters in Franklin, Tenn.
"That was predominately built for hauling huge loads comfortably with a diesel engine. The XD gas is the same, but we know a lot of customers don't prefer a diesel engine and they're looking for a gas option. It's also a little cheaper entry point."
At the beginning of the Titan XD V8 gas lineup is the S Crew Cab 4×2 which starts at $35,290. Get the Cummins 5.0-liter turbo diesel instead and the price rises to $39,060 for the same configuration.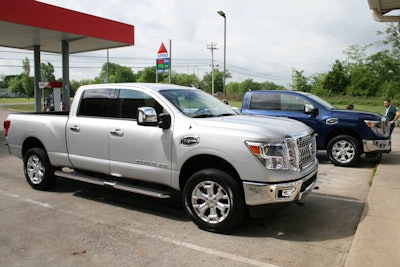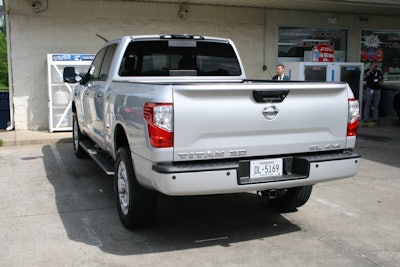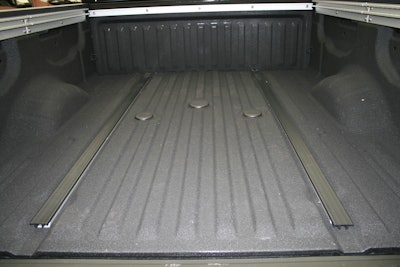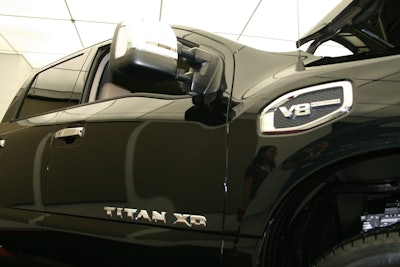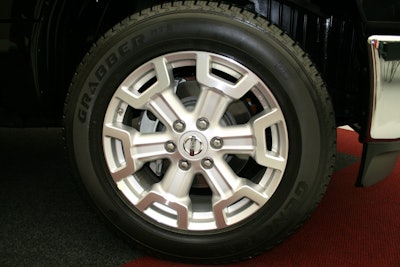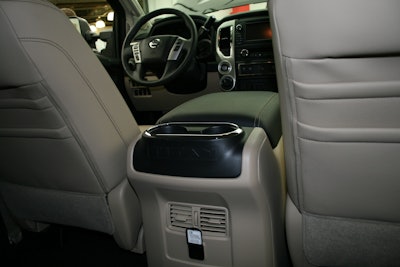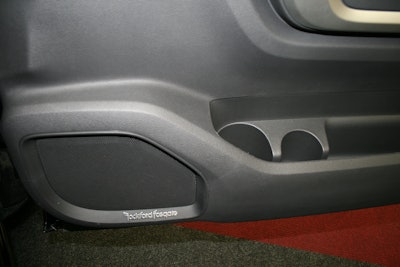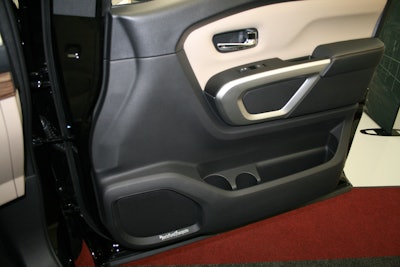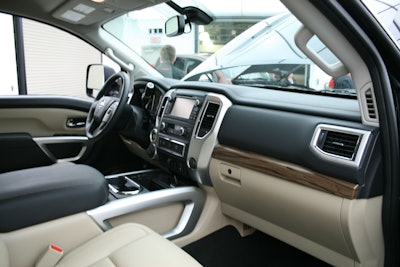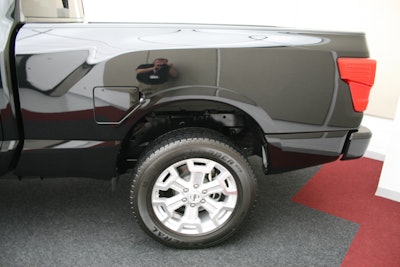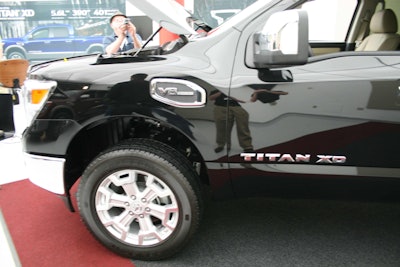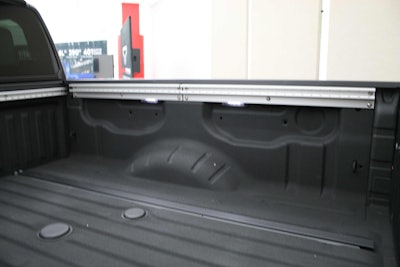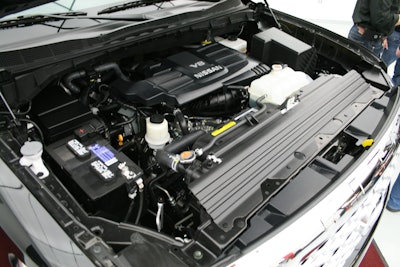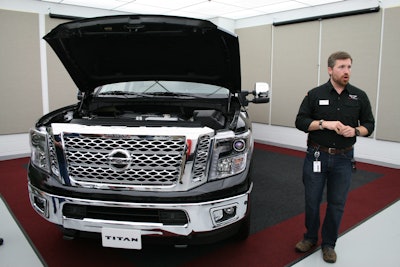 So, is it worth saving roughly $4,000 for the Endurance gas V8? Of course, that depends on the driver. Besides giving up 154 foot pounds of torque, maximum towing drops from 12,314 pounds with the diesel to 11,270 pounds with gas. However, payload increases from 2,091 pounds with the diesel to 2,594 pounds with gas.
Aside from powertrain and performance differences, both 2016 Titan XDs are the same. The wheelbase, at 151.6 inches, is about 11.8 inches longer than Titan. Overall length for the Titan XD is 242.7 inches while Titan measures 228.1 inches. Titan XD's height is 78.8 inches while Titan measures 76 inches.
That 3-inch lift, as Miller explained, allows for increased payload and towing.
"When you're driving the truck you're going to feel a little more ride stiffness than what you typically find in a half-ton, but that was there because we need that spring rate for the towing and payload that we have," Miller said shortly before the ride impression began.
The 200-mile or so roundtrip to the Nissan Powertrain Assembly Plant in Decherd, Tenn. revealed that the Titan XD gas handles well on the highway and offers greater acceleration than the Cummins diesel.
Both the Titan XD SL Crew Cab Crew Cab 4×4 and the Pro-4X Crew Cab easily handled a 350 pound payload of concrete. In fact, differences in acceleration between that load and none at all were negligible. At the end of the approximate 100 mile trip from Decherd to the hotel in Nashville, the truck calculated gas mileage at 15.9 mpg with the 350-pound load. Cruise control was used for most of the trip.
Miller has little to worry about in terms of ride comfort, at least on paved roads. Our route never took us off city or highway streets. Consistently smooth streets paved the way for a smooth ride, but what else would you expect?
During the Titan XD Cummins turbo diesel test drive in October in Arizona, Nissan provided ample opportunities for off-road, payload and towing impressions, including a six-percent grade. But our route was virtually flat–scenic at times as it meandered through barn-speckled country-side, but otherwise devoid of eventful challenges and mostly confined to the highway.
Beyond accelerating on flat, paved roads, it's difficult to draw any other comparisons between powertrains.
Audio quality was impressive thanks in part to Rockford Fosgate speakers and plenty of provisions are made for interior comfort and storage.
A lockable storage box under the back seat does more than protect valuables. After securing the backseat in an upright position, the double-hinged lid of the storage box can be folded forward to provide a flat storage area across the floorboard. This handy features eliminates the awkward pitch of the transmission hump and makes for much easier stacking.
One of the more lasting impressions from Nissan's Titan XD V8 gas event was anecdotal. Miller said he developed a new found appreciation for the Titan XD's trailer sway control feature.
"I was driving the XD gas to Missouri. In the middle of the winter, we had a blizzard. It was a complete white-out and I was hauling my trailer through 45, 50 mph crosswinds when I hit a patch of ice.
"It moved the truck one lane. It was the first time I had trailer sway work and it was amazing. I have to tell you because the semi in front of me had already started sliding and my truck changed lanes and I felt that sway start moving and I hear the intervention go off and it kept me straight. I was able to stop and brake before the semi. I'm a true believer in the sway control."
Miller and other Nissan exes are also true believers in focus groups. Feedback from truck enthusiasts led Nissan to develop the Titan XD—a truck that has enough towing and payload capacity to place it in-between ½ and 3/4-ton trucks.
"What we found is that there are 75,000 customers moving up from the ¾-ton class and at the same time there are 75,000 moving down to the ½ ton class from the ¾," Miller explained. "That's 150,000 customers that for some reason or another are looking for a different truck than what they have."
The 2016 Titan XD with an optional 5.6-liter V8 Endurance goes on sale next month. The engine will also be available for the 2017 Titan.