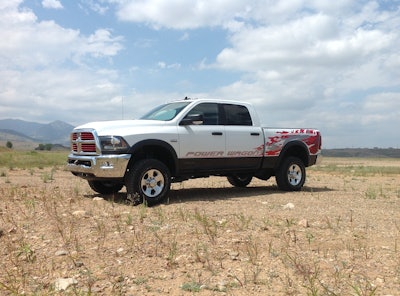 Summer got a lot more interesting this year thanks to a test drive in the 2016 Ram Power Wagon.
The Power Wagon line-up is built on an impressive four-wheel-drive legacy.
Debuting in 1946, the Power Wagon became the first four-wheel-drive truck offered to consumers across the country.
After building roughly 255,000 ¾-ton military trucks that were put to the test in World War II, Ram felt confident that it had locked in on a terrain taming beast that could prove popular with civilians.
Despite a production gap between 1981 and 2004, 70 years later the Power Wagon is still going strong. The 2017 model is a nod to the iconic 1980 model which was featured on the hit TV show Simon & Simon.
The first thing I noticed about the 2016 Power Wagon Crew Cab SLT is that it clearly stood out from anything else in the parking lot.
Ram had dropped the truck off at a hotel I was staying at in Colorado. I couldn't help but smile when I saw it. Its bright white finish was paired up nicely with red billets in a crosshair grille bordered by chrome trim. Chrome bumpers front and rear tastefully turned up the panache. Poking out from the front bumper was the steel hook of the Warn 12,000-lb. winch.
The truck had powerful fun written all over it—literally. The SLT trim package features Power Wagon graphics, which lets everyone know on the road that you're running with the big dogs. This is a truck that's meant to be seen and driven hard.
Built on the Ram 2500 chassis, it's got two more inches of lift and 14.5 inches of ground clearance. It took quite a leg up from my 5-foot, 11-inch frame to make it inside the cab, but it was well worth the effort.
Once inside, I took stock of the interior. Comfortable, two-tone grey cloth seats were well within reach of cup holders and power ports. (Leather seats are available in the Laramie edition). The center console, which features an SD card slot along with 12-volt round and USB charge ports, can be folded up and turned into a middle seat.
The dash combines easy-to-read dial gauges with a center screen display that also provides the truck's vitals like engine temperature, speed, fuel consumption and song/station selection.
After leaving the hotel, my first stop was about 20 minutes away at a mine reclamation site in Arvada, Colo. which had been converted into an off-road course.
The Power Wagon easily took on plenty of humps and dips and made for a comfortable ride. Thirty inches of water fording capability was there for the taking.
Bilstein monotube shocks worked alongside Ram's Articulink suspension design, which, according to Ram uses "high movement joints at the control-arm-to-axle mount, allowing for additional flexibility and axle articulation."
For greater articulation, an electronic disconnecting sway bar is only a button push away on the dash below the 8.4-inch display screen.
When using the "Smart Bar" disengagement feature, the front axle will move more independently of the frame. It works in either four-wheel-drive high or low modes. However, for safety's sake, the sway bar will re-engage at speeds above 18mph to decrease body roll. Increased roll stiffness is delivered through an advanced three-link front suspension.
Before taking on a menacing embankment with a 23-degree grade, I opted to keep the truck in four-wheel-drive high to see how it would make the climb.
It wasn't much of a challenge. The 6.4-liter HEMI engine went to work as 33-inch Goodyear Wrangler Duratrac tires bit hard into the soft dirt and quickly took me to the peak. It was a quick testament to the truck's impressive 410 horsepower and 429 lb.-ft. of torque delivered through a six-speed automatic transmission and a responsive 4.10:1 rear axle ratio.
Talk about confidence, more strength was just a button push away, thanks to electronic locking differentials.
Of course, what comes up, must come down. Before traveling down the other side of the bank, I engaged hill descent and let the truck take over braking and acceleration. It was a comfortable ride down despite the steep pitch. Braking was effortless through four-wheel disc brakes: dual-piston calipers squeezed 14.17-inch rotors in the front and 14.09-inch rotors in the rear.
Shifting the Power Wagon into four-wheel-drive took some muscle. The manual stick shift is located on the transmission hump, just to the right of the driver's seat. I appreciate the stick on the one-hand in that it helps to prevent accidental shifts into four-wheel-drive, which has been known to happen with buttons and knobs. (I had once loaned out my truck to someone who unwittingly put it into four-wheel-drive by twisting a knob. The truck's strange sounds during turns alerted the driver to the problem.)
After taking the Power Wagon off-road, it was easy to see why Fast Lane Truck (TFLtruck) awarded it with its Gold Hitch Award for "Best Off-road Truck." The truck exudes nothing but confidence when taking on tough terrain.
Highway time with the truck was smooth and uneventful. Road noise was minimal, a non-factor. Fuel consumption, according to the truck itself, averaged 13mpg following a roughly 670-mile trip from Denver to Dallas.
Cylinder deactivation helps improve fuel mileage by taking the engine down from eight to four cylinders during highway driving. Also, a front axle disconnect system provides up to 1mpg improvement.
I enjoyed listening to Sirius satellite radio along the way. For mobile office enthusiasts like me, Chrysler's Uconnect system offers WiFi while two alternators under the hood keep the power coming at 380 amps. Nice!
With a payload capacity of 1,490 pounds and a tow rating of 10,810 pounds, the Power Wagon can easily go from dirt dynamo to formidable workhorse.
Built-in Ram boxes featured on both sides of the bed provide a great place to store tools. Drain plugs in the boxes also allow them to be transformed into ice chests. One push on the keyless remote locks all of the doors, the tailgate and the Ram boxes.
Really, the only disappointing part of driving the 2016 Ram Power Wagon was having to hand it back over once I reached Dallas.
Suggested retail is as follows for the following models (does not include $1,195 destination fee).
Power Wagon Tradesman — $44,495
Power Wagon (SLT) — $49,145
Power Wagon Laramie — $54,820