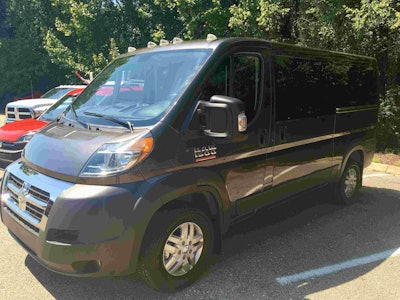 The commercial van market has undergone an Euro-invasion unlike anything since the Ed Sullivan Show ushered Beatlemania stateside in the 1960s.
Ram's ProMaster, mostly inspired by its Italian sibling Fiat Ducato, is coming off a banner year thanks to the U.S. Postal Service which recently received the last of a 9,000 unit order only to request 3,000 more.
The unibody ProMaster, which is available in 14 different configurations, was first launched in 2013 as a 2014 model and has helped Ram seize upwards of 15 percent marketshare since the Ram Commercial brand was born in 2012.
ProMaster comes standard with a 3.6-liter gasoline V6 engine that kicks out 280hp and is matched to a 6-speed automatic transmission. A 3-liter, four-cylinder EcoDiesel that features 174hp is available as an option, and is matched to a 6-speed automated manual transmission (AMT).
Dave Sowers, Ram Commercial's head of marketing, says the availability of an AMT on the diesel was designed to help commercial customers recruit drivers.
"By making an automated manual, you get the best of both worlds," he says. "A vehicle that just about any driver can operate and you still maintain that efficiency and durability."
New for 2017, the ProMaster diesel powertrain gets an electric parking brake for the AMT.
"If you stop the vehicle, shut it off and get out and forget to set the parking brake," Sowers says, "it will set it automatically and you don't have to worry about the vehicle in that case."
I was able to test a 2017 ProMaster over the course of several days last week, motoring more than 270 miles on the highway and city streets. My test unit featured the stock gas powertrain that is prominent across Chrysler, Ram and Dodge brands.
I found the engine nimble at highway speeds and traction and handling were tight. I also averaged 14.8 miles per gallon. Not too bad for a large work van. ProMaster is the only Class 2 commercial van that doesn't feature rear-wheel drive, and that quickly becomes obvious behind the wheel. An optional AMT isn't the only thing included on ProMaster aimed at making driving easier.
"Front wheel drive is a better package for inexperienced drivers," Sowers says. "Most of these guys that drive these things are hired for another skill. Front-wheel drive is more predictable for those [customers]."
I may or may not qualify as an inexperienced driver, but predicable is an accurate way to describe the handling, which is highlighted by responsive steering.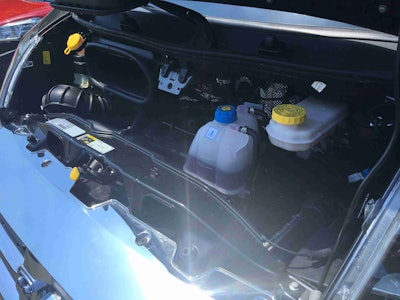 Making the van easier to drive is just one of the benefits of the front-wheel-drive van. There are less parts from front to back, allowing for a lower load floor and bigger doors that can fit a standard size pallet.
For customers in the market for a chassis cab, front-wheel drive gives upfitters more room to work.
"It's much easier to upfit," Sowers says. "We have lower frame rails in the back so you can get your upfit closer to the ground but it also means the upfitters themselves have less to touch in the back."
Chassis cabs and cutaways are available in the 3500 series in 136- or 159-inch wheelbase, and feature a low roof with cab-to-axle length of 81 or 104 inches, respectively.
The unibody construction gives ProMaster a noticeably smoother-ride than a large body-on-frame van, but still provides enough backbone for a class-leading 4,417 pound payload rating.
"That's going to get me more than a 3/4 ton truck in most cases," Sowers says, "with the added benefit of the security that comes along with it."
As you would expect, ProMaster's ride and handling improves when it's loaded, but was comfortable even when absent a payload.
ProMaster cargo vans are available in a 118-inch short-wheelbase low-roof 1500, low- and high-roof medium-wheelbase (136 inches) 1500, medium- and long- (159 inches) wheelbase high-roof 2500, and long-wheelbase high-roof 3500 in standard or extended body, which adds 14 inches. Cargo volumes range from 283 cubic feet to 530 cubic feet.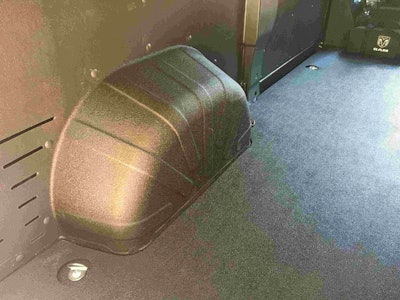 My 136 inch wheelbase low roof test model featured up to 469 cubic feet of storage and the 65 inch floor-to-ceiling height made standing up in the back simple. I'm only 5 inches taller than the inside of the van (the height of the average American male is 5'10") so it wasn't uncomfortable to move around.
The cargo area is coated with a bed liner like spray, and my test unit featured an additional load mat for added protection.
ProMaster has an almost imposing driving position. Two captain seats, which each swivel 180 degrees, are mounted on a raised deck that gives the driver an elevated vantage point through the giant windshield. A bench seat is optional.
The best in class turning radius of 36 feet shined on urban surface streets, but more real estate on both the passenger and driver-side doors could have been devoted to windows. I found left-hand turns across traffic to be troublesome when an intersection was anything but perpendicular. That is abated by some creative angling of the van and using its massive side mirrors. An optional backup camera was a nice touch, especially considering the giant rear doors lacked windows.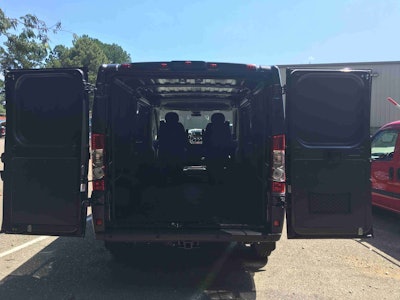 At the rear, ProMaster's cargo doors open in three stages – 90 degrees, 180 and almost 270 degrees – making loading and unloading simple for most any application, and the lowest load floor hight in its segment by almost 6 inches makes egress comfortable and easy.
Sowers says the average age of the commercial van fleet is hovering at just more than 7 years old and Ram is hoping to capitalize on soon-to-come turnover rates with ProMaster. With the agility the van offers on the road, coupled with ergonomic comforts like the lower step-in height, I believe Ram Commercial is poised to push their 15 percent share to new heights.