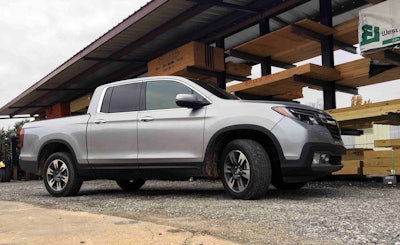 You don't see many Hondas tooling around a job site, but the company is poised to change that – or at least make a dent in it – in 2017 with its second generation unibody Ridgeline pickup.
This ain't your granddaddy's Ridgeline. After briefly shelving the truck following the 2014 model year, the Japanese automaker went in a decidedly new direction with its new Lincoln, Ala.-built pickup.
The original Ridgeline sold about a quarter of a million units before production stopped after eight years, hindered by a mashup styling that was more Pilot-without-a-hatch than pickup. Ridgeline The Next Generation shed those angular bedrail panels behind the rear doors and replaced them with, well, nothing. When you walk up to the new Ridgeline, it looks like a truck, not like an SUV that was pulled too soon off the assembly line.
Previous generation Ridgeline also featured a prominent single side panel, but now there is a clear and welcome delineation between where the cab ends and where the bed begins.
Ridgeline still shares its chassis with the Honda Pilot SUV, and its 3.5-liter i-VTEC V6 engine, and pretty much everything from the front bumper to the back of the seats, but the back half of the vehicle – the part that makes it a truck – is distinctly truck-like.
Honda's reinforced composite truck bed doesn't require a bed liner. The automaker attracted attention earlier this year when it published a truck bed challenge video showing a load of concrete blocks getting dumped into the bed from a landscape tractor. The bed held up nicely: no cracks, no visible scratches, and because of its composite structure, no dents.
A double-hinged tailgate – it drops down normally or swings open to the driver's side (but doesn't have a lock) – is a holdover from the previous generation Ridgeline as is a 7.3 cubic-foot waterproof trunk-like compartment mounted under the floor of the bed (which does lock). The compartment also features a drain plug incase you want to do some heavy duty tailgating. Available in-bed audio speakers and a 400-watt AC power outlet are a nice leg-up at the party or jobsite.
The 64-inch long bed – among the largest in the class of small crew cabs – sits above the wheels, so fender wells don't eat up much of the cargo space. The 50 inches between them, aided by eight strapping hooks, is enough to load full sheets of plywood, sheet rock or 1,500 pounds of whatever you may need on the job.
Alabama spent much of the fall under historic drought conditions. That problem solved itself in the days before my Ridgeline test vehicle arrived, creating unexpected opportunities to push the all wheel drive (AWD), which is no longer standard on new models.
Ridgeline's AWD features four modes – Normal, Sand, Snow and Mud. You can choose one on the fly by pushing a button at the base of the console-mounted shifter. Honda's Variable Torque Management (i-VTM4) controls dynamic torque vectoring to send torque wherever it's needed the most.
I took a fresh soupy trail only hours after a three day soaking rain and powered through it with ease in Mud mode – and I don't mean "with ease for a Honda." I mean "with ease for a pickup." The truck's ground clearance is about 8 inches, which was a concern initially but it proved to be more than enough for the trip.
On pavement at highway speed, Ridgeline is rock solid. Its low center of gravity (72 +/- inch ride height) obliterates body roll and the independent suspension provides excellent road manners. The direct injected 3.5-liter i-VTEC V6 (280 hp and 262 lb.-ft. of torque) is smooth and nimble but agility noticeably dips in Econ mode, which when activated by a green, dash-mounted button dials back throttle response and optimizes the six-speed automatic transmission's shifting patterns in an effort to boost fuel economy.
Honda claims best in class 18 mpg in the city and 25 mpg on the highway on AWD models and a combined 21 mpg. I actually did a little better on my 320 mile test, hitting 21.8 mpg and I wasn't necessarily trying to save fuel at any point in the drive.
Front-wheel drive models, Honda says, get 19/26 mpg and a combined 22 mpg.
Honda says more than 50 percent of the front and rear chassis components have been re-engineered from the Pilot SUV, giving the truck a beefier suspension that allows for a tow rating of 5,000 pounds on AWD equipped models. That dips to 3,500 pounds in 2WD trucks, a configuration previously unavailable in first generation models.
My AWD model pulled a 6-foot trailer loaded with lawn equipment like it wasn't even there. Among the towing hardware added to Ridgeline is a high capacity radiator with dual high-power fans and a heavy-duty transmission cooler, which is standard on AWD models.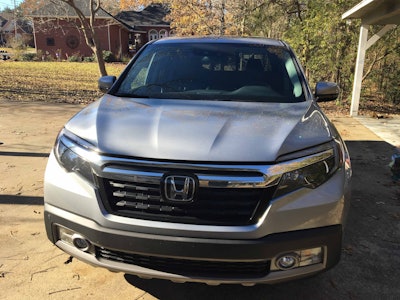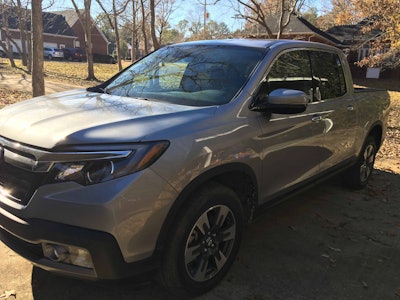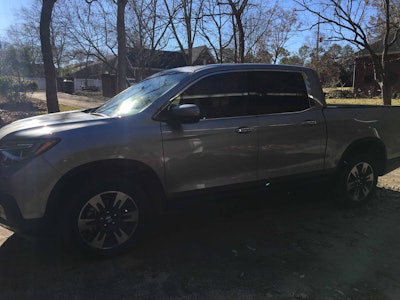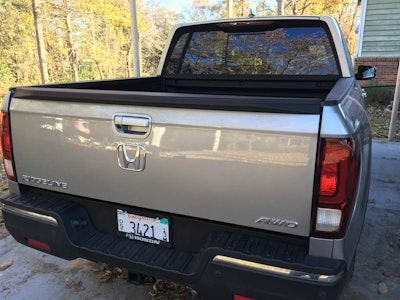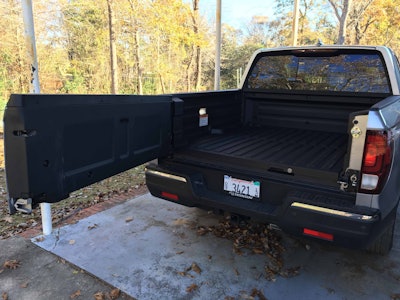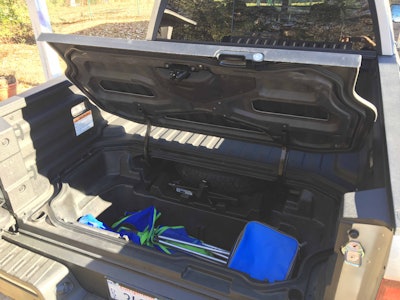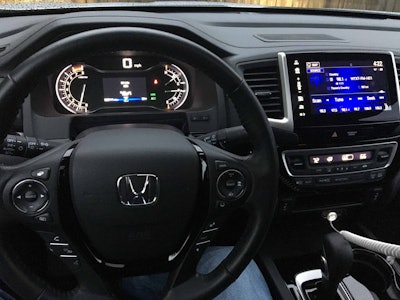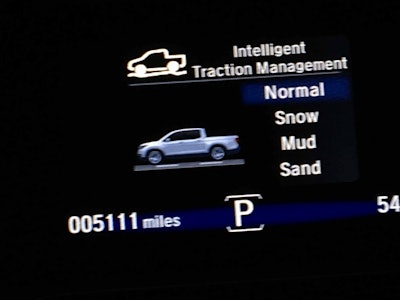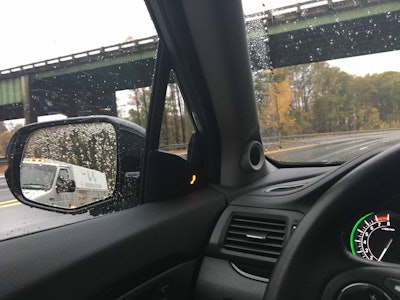 The spacious, nicely-appointed interior – again, borrowed from the Pilot – certainly doesn't feel mid-size. The wide seats and cabin offer more than ample leg and elbow room, even on the three-passenger backseat bench. The cab is amazingly quiet and the engine is so smooth at idle, you'd swear it wasn't even running.
There's lots of room for storage under the rear seats, which also fold up to accommodate larger items.
My tester was also flush with cool safety tech like adaptive cruise, emergency braking, blind spot warning, lane departure warning and a backup camera.
Honda's second attempt at a pickup is much more on target than its first, making a giant leap toward truck and away from Japanese El Camino. However, it still blends passenger car comforts with enough versatility to satisfy pickup buyers who don't do a lot of heavy hauling, but still need the workman capabilities a pickup offers.