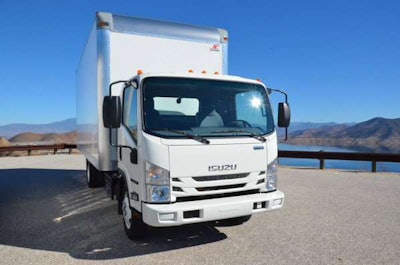 Isuzu's trucks are known for their practicality, but there's plenty of brawn behind the minimalistic design.
Take, for example, the NRR – the Class 5 heavyweight in Isuzu's commercial lineup.
With a GVWR of 19,500, the NRR is the beefiest of Isuzu's cabovers, and with capability to accommodate a 24-foot body and a payload allowance of nearly 13,000 pounds, it's also one of the largest.
The NRR comes standard with a 5.2-liter diesel that I found very responsive on a recent 200-mile plus test drive up and around the California coast. Even with 5.2 liters pumping out 215 hp and 452 foot-pounds of torque directly beneath my seat, cab noise was minimal. In fact, the only time it was obvious that Isuzu's largest diesel power plant was under the hood was when the truck was at idle. At highway speeds, you'll find more noise in many sedans and SUVs.
Isuzu matched its I4HK1-TC 5.2-liter turbocharged diesel engine with an Aisin 6-speed transmission with double overdrive that also features lock-up on second through sixth gears. A limited slip differential is optional on the NRR.
Riding on 19.5 inch tires, the NRR features a turning radius of 46.5 degrees, which made the 176-inch wheelbase unit I was testing feel a lot smaller than it was as we navigated crowded surface streets. The NRR is available in six wheelbases up to 212-inches, just in case you really need to pack in a load.
Steering was comfortable and tighter than what you would expect from a "box truck." The NRR comes with full tilt and telescopic steering and a Multi-Information Driver Display screen mounted in the instrument cluster.
If you're looking for heavier haul capabilities but still need an urban traffic fighter, Isuzu's NRR should be on your shopping list.