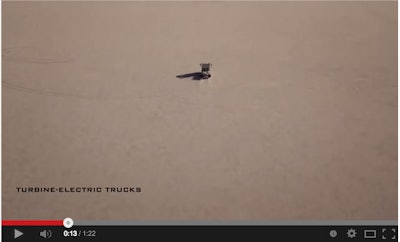 Don't be shocked, but with lots of hard-working electric trucks in the news lately, the Fun Trucks Friday staff is all charged up and ready to explore the possibilities: from trucks to dragsters to Formula race cars.
(First a Friday FYI: Follow these links for the latest news from Smith Electric, Hino and Nissan.)
Among the trucks on display at last week's ACT Expo was the turbine-electric Wrightspeed Route, a "repower" powertrain kit, engineered for the delivery and service fleet markets.
The Route replaces a truck's diesel engine, transmission, and differential and provides impressive improvements in fuel economy and maintenance costs.
It's a "microturbine," actually, and it nestles under the cab of an Isuzu NPR, wrapped in aluminized insulation. Other powertrain components – a 200 kW (268-hp) generator and a 26-kW lithium-ion battery pack — sit between the truck's frame rails.
The Silicon Valley-based company, started by a Tesla co-founder, has recently announced delivery to their first customer, FedEx. They also have a beefed-up HD version, designed to be "the Tesla of garbage trucks."
The Route turbine generator charges batteries, as needed, on the road and can run on liquid or gaseous fuel. FedEx is taking advantage of that flexibility, for example, with both diesel and CNG versions of Wrightspeed's technology. Both exceed the California Air Resources Board's ever-tightening emissions standards by 1,000 percent, the company boasts.
"We tend to think of pure battery electric vehicles as the cleanest vehicle technology available, and that used to be true," says marketing manager Maya Giannini. "However, our onboard generator burns cleaner per kWh than the average mix of U.S. electric power plants, making Wrightspeed's products cleaner than an EV."
The video linked above shows the truck at play on the flats, doing some nice, tight donuts. Or, for those who'd like a closer look at the workings, see this one:
[youtube 8rKsk6hEcNQ nolink]
Big Daddy goes green. The whine of a turbine-powered truck might take some getting used to, but just imagine the ear-shattering decibels an electric dragster doesn't produce.
Here, the team of dragstrip legend 'Big Daddy' Don Garlits preps his 2,000 hp dragster ahead of a record setting 7.258 quarter-mile, crossing the line at 184 mph.
According to the report in Wired magazine, the dragster topped the previous record by more than 24 mph, though it failed to hit 200 mph as Garlits had hoped.
Six 7.5-inch DC electric motors put out 1,500 kilowatts, powered by four lithium-polymer battery packs at 420 volts and 3,600 amps.
[youtube Ea4igN8Thtg nolink]
Andretti e-approved. Speaking of famous racers, with Memorial Day and the Indy 500 coming up, the name Andretti certainly comes to mind. But the clan is in the news this week not because of Gasoline Alley.
Andretti Formula E is further dedicating its commitment to sustainability in motorsports through a strategic alliance with the Electric Drive Transportation Association, EDTA said Thursday. The alliance will allow both organizations to collaborate on initiatives to advance and promote the use of electric drive technologies in mainstream applications.
In 2013, Andretti Autosport announced its new division of racing, Andretti Formula E and became the first American team named to a group of 10 elite racing organizations worldwide to compete in the new fully electric FIA Formula E Championship.
The teams received their first batch of 150-mph Spark-Renault SRT_01E race cars May 15.
The FIA Formula E Championship goes green this September with the opening round in Beijing, China. For a preview look at SRT and some of the field, peruse the slides below, courtesy of FIA Formula E.