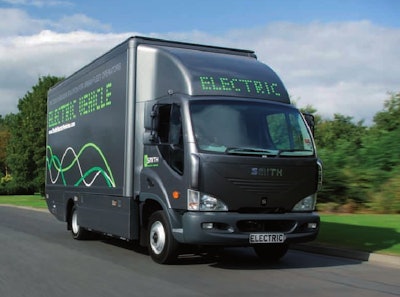 Smith Electric Vehicles, a Kansas City-based all-electric medium-duty commercial vehicles builder, has gotten a recharge – a $42 million commitment from lithium-ion battery producer and distributor Sinopoly Battery Ltd.
The investment will position Sinopoly, of Hong Kong, as a "strategic shareholder" in Smith Electric, according to a Smith Electric announcement this week.
"Demand for all-electric commercial vehicles is rapidly increasing in China, and Sinopoly's investment in Smith Electric highlights the important role we will play in the global marketplace," says Bryan Hansel, CEO of Smith Electric Vehicles. "This investment provides both companies with the opportunity to leverage the synergies between our operations while Smith maintains the financial and operational flexibility to scale manufacturing, transition and strengthen our supply chain, and move toward company profitability."
Under the agreement, Sinopoly will become Smith Electric's exclusive supplier for batteries in vehicle applications that are compatible with Smith Electric's platforms and customer requirements.
Sinopoly will also become a preferred supplier for certain electric vehicle components that can be manufactured in its Hangzhou facility.
The first $2 million in funding closed Monday, and the remainder will be invested in two tranches pending milestones to be achieved by both companies in the coming months.
"Smith is an internationally renowned supplier of EVs. Sinopoly's investment in Smith represents an important and strategic advance step in establishing Sinopoly as a significant integrated player in the EV industry," says Cao Zhong, the chairman and executive director of Sinopoly. "The combined expertise of Smith and Sinopoly, which will adopt the name of FDG Electric Vehicles Ltd. shortly, along with the macro-subsidy policy for alternative energy vehicles, uniquely positions us to capitalize on the rapidly growing commercial EV market in China and the U.S."
Smith Electric will resume production in its Kansas City facility in mid-summer 2014.
The company had temporarily suspended production in the fourth quarter of 2013 in order to transition its supply chain to Tier 1 suppliers, which will enable Smith Electric to produce its vehicles at a lower cost, the company says.
"Sinopoly's investment in Smith Electric Vehicles marks an important milestone in recapitalizing and restructuring the company in preparation for the public market," says Charles Gassenheimer, chairman of the board of Smith Electric Vehicles. Gassenheimer was appointed chairman in April 2014, and brings extensive private and public financial markets experience, as well as significant operational expertise in the EV industry, the release notes.
"This agreement underscores Sinopoly's institutional understanding of the global electric vehicle industry and the company's commitment to working with Smith Electric to create a major player in the market," Gassenheimer adds.