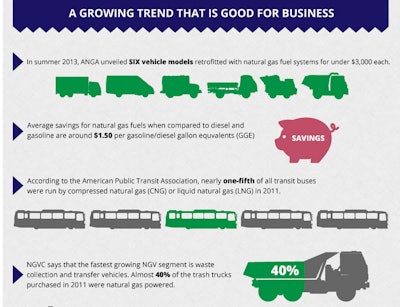 Infrastructure and a market wanting more information are among several factors blocking a wide adoption of natural gas in trucking, a panel told attendees this week at the Alternative Clean Transportation Expo in Long Beach, Calif.
The panel featured reps from all major North American truck OEMs, and the truck makers cited everything from questionable resale value to the availability of the fuel as obstacles in the industry.
Fleets unsure of a natural gas truck's resale value have been hesitant to commit sizable portions of their budget to trucks that can be difficult to sell for a yet-to-be determined amount, panelists said.
"The early 9-liters are just now seeing the secondary market, but the residual curve is similar to diesel," says Andy Douglas, National Sales Manager for Kenworth Truck Company, adding all eyes are on the secondhand value of the natural gas engine the industry waited so many years to arrive: the 12 liter.
"There's not enough 12 liters in the market to get an idea of residual value," Douglas adds.
While there may not be enough on the secondary market to determine a realistic value, Freightliner's Bob Carrick called the engine "a hit so far."
And while residual value of natural gas trucks is still under development, determining factors aren't hard to identify, said Roy Horton, powertrain product marketing manager for Mack Trucks. "That will be determined by performance and reliability of the engines and fuel systems," he says.
Secondary value has been hard to pinpoint simply because the basic principals of economics — supply and demand — are mostly inapplicable right now, said Frank Bio, director of sales development for Volvo Trucks. "There's not many in supply and there's not a lot of demand right now," he says.
Feedback from drivers has been mostly positive on natural gas units, and that has put more of the trucks on the road, giving rise to hope that demand won't be far behind, panelists said.
"Driver reception of natural gas trucks has been great," Horton adds. "There's been no complaints about power and performance. … People are starting to get a little more comfortable with operating a natural gas vehicle."
Charles Cook, marketing manager for vocational products for Peterbilt Motors, says the ongoing construction of CNG stations has brought more natural gas truck buyers to the table, and that will continue to be a major factor going forward.
It's still unclear, though, what type of fuel those stations will need to dispense: At a similar panel during last year's ACT Expo in Washington D.C., most manufacturers said their natural gas truck orders heavily favored CNG — to the tune of roughly 90 percent. Still, most forecast LNG could catch up by 2020, with each predicting a 50/50 to 60/40 split in six years.
The OEMs didn't offer much of a revision this week with an additional year of sales data under their belts, but Douglas said he's seen all he needs to.
"I'm going to say it's going to be more 75 to 80 CNG," he says of natural gas truck sales split in 2020. "I'm seeing some early LNG users migrate to CNG. I'm starting to believe CNG offers a lesser fuel cost … (and) I've got to believe economics are going to drive this thing."