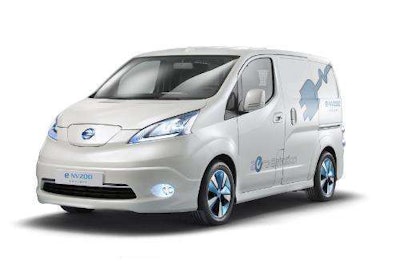 Nissan said Monday it has started the production of its second all-electric vehicle, the e-NV200, which will soon be available in Europe as both a passenger vehicle and light commercial van.
The Nissan plant in Barcelona will be the global production site for the zero-emission vehicle.
A similar outfitted van is currently in testing with FedEx in the Washington D.C. area.
RELATED: Nissan testing electric van with FedEx
The e-NV200 will initially be exported to around 20 international markets, including Japan. Just as with the Nissan LEAF introduction, Nissan says the number of markets will grow after the initial launch, to continue the company's sustained electric vehicle expansion.
"This is a great landmark day for Nissan, starting production of our second electric vehicle. This is at a time when EVs are now recognized as mainstream technology," Nissan Motor Co. Ltd. Chief Planning Officer Andy Palmer says. "Many competitors are only just starting to launch their first EV – where Nissan has clear first mover advantage. We're proud that the Nissan LEAF is the world's best-selling electric vehicle with more than 110,000 delighted customers enjoying the quiet and smooth ride of an EV."
Barcelona will be the first city in the world to introduce the e-NV200 as a 100 percent electric taxi.