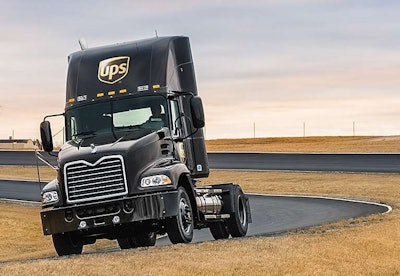 Mack's natural gas-powered Mack Pinnacle models will be on display at the Alternative Clean Transportation Expo 2014, spotlighting the manufacturer's leadership in natural gas.
ACT Expo, North America's largest clean fleet expo, takes place May 5 to 8 at the Long Beach Convention Center, Long Beach, California.
The Mack booth will showcase the Pinnacle Axle Back model with both LNG and CNG power. Designed for regional haul and LTL, the Mack Pinnacle is equipped with the Cummins Westport ISX12 G engine.
The maintenance-free aftertreatment, requiring only a three-way catalyst to meet EPA 2010 and CARB emissions standards, combined with low-cost natural gas, reduces vehicle lifecycle costs, Mack says.
"Mack is a longstanding leader in developing solutions that are designed with customer needs in mind," adds Roy Horton, Mack powertrain product marketing manager. "This includes natural gas-powered solutions, which offer reduced greenhouse gases and an increased return on investment for our customers."
Mack has been a leader in natural gas technology development for more than two decades and has been offering natural gas-powered Mack TerraPro models since 2009.
Mack plans to introduce a natural gas-powered version of the Mack Granitemodel and its recently announced Mack LR series refuse vehicle as well.
Horton will participate in a panel discussion with other OEMs titled Heavy-Duty Natural Gas Trucks: A Reality Check at 2:45 p.m. Tuesday, May 6.