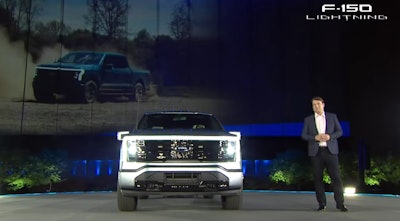 Ford
Ford revealed its all-electric F-150 Lightning Wednesday night which CEO Jim Farley is convinced will propel the nascent EV industry ahead fast.
"There's nothing that will move America faster into an EV future than #F150Lightning," Farley tweeted Wednesday morning 12 hours ahead of tonight's 9:30 p.m. reveal.
Fleets may very well lead the charge for the low maintenance, 563-hp truck that starts at $39,974, or roughly $12,000 less than the competing Lordstown Endurance and $35,000 less than Rivian's R1T Launch Edition.
"If you're a commercial customer, we have an F-150 Lightning just for you," Farley said on stage during the reveal. "It offers the lowest cost of ownership of any truck we've ever made. It needs less maintenance because it has 40 percent less moving parts in the powertrain and of course you never have to stop at the gas station."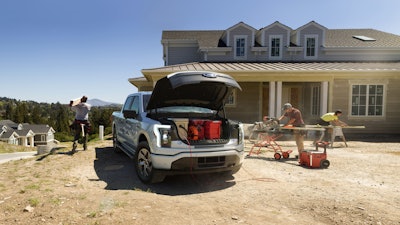 A 40% reduction in moving parts translates into big savings. When revealing electric Transit in November, Farley said the van "should save about 40% on operating costs tied to scheduled maintenance versus a gas-powered Transit during each vehicle's lifetime. Customers should see more uptime too."
While Ford has not released towing numbers on the E-Transit, F-150 Lightning Chief Engineer Linda Zhang said the truck will tow up to 10,000 lbs. (on XLT and Lariat trucks with the extended-range battery and Max Trailer Tow Package.)
If towing performance is anything like Rivian's R1T electric pickup, which is set to roll out next month, then Lightning's range will be cut roughly in half during max towing.
Compared to pickups with internal combustion engines, that's not exactly bad news. A 2019 Titan XD diesel pickup reviewed by Hard Working Trucks was getting around 14mpg city and dropped to 7.5mpg city when hauling a bed full of oak firewood and towing 7,000 lbs. Fuel economy was cut about 40% when testing a 2019 Ford F-250 diesel with a 7,000 lb. load in tow.
To help gauge range impact while carrying passengers and hauling, Ford's Onboard Scales use Lightning's sensors to estimate payload which is then used to calculate range.
[Related: President Biden takes the electric F-150 Lightning for a spin]
As with all EVs, charger availability and charge times may prove challenging. On a 150-kilowatt DC fast charger, Ford reports that an "extended-range F-150 Lightning is targeted to get up to 54 miles of range in 10 minutes and charge from 15% to 80% percent in about 41 minutes."
The University of Michigan's battery lab technical director Greg Less told HWT's sister publication Commercial Carrier Journal last year that fast-charging "puts a strain on current generation batteries" and that "you can do it once in a while without causing any serious damage" but "you wouldn't want to do it all of the time."
Lightning's standard-range battery offers up to 230 miles of EPA-estimated range and an extended-range battery targets 300 miles of EPA-estimated range.
Looking more and more like a fleet's Swiss army knife
As demand continues to rise for more power and storage capacity, the F-150 Lightning appears to have stepped up to meet the challenge.
For fleets that remain on the hunt for outlets—and who doesn't?—to charge up power tool batteries or to power up air compressors and other juice-hungry equipment, Lightning can provide.
Pro Power Onboard provides juice to 11 outlets on the truck. Up to 2.4 kilowatts is available through the spacious frunk while 7.2 kilowatts is available through outlets in the cab and bed.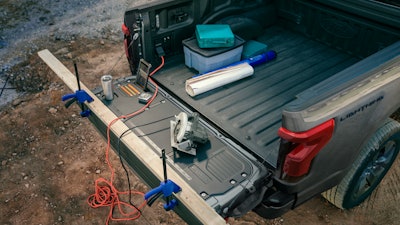 During a power outage, Ford Intelligent Backup Power can provide up to 9.6 kilowatts to power a home. Based on an average of 30kWh of power use per day, Lightning can meet a home's power needs for up to three days or as long as 10 days if power is rationed.
With Ford Intelligent Backup Power, enabled by the available 80-amp Ford Charge Station Pro and home management system Ford can help install, F-150 Lightning automatically kicks in to provide back-up power. Once power is restored, the truck automatically reverts to charging its battery.
Keeping range impact in mind, a FordPass notification will provide an alert if the truck's battery falls below one-third of its total range. Also, users can program Pro Power Onboard to stop if the battery level approaches the distance to the nearest charging station.
Because more and more stuff demands more and more storage, Ford has provided a spacious, 14 cubic foot frunk under Lightning's hood which can hold up to 400 pounds of stuff while the bed has a max payload of 2,000 pounds.
The water-resistant frunk has four electrical outlets, two USB chargers and a drainable floor that can double as a cooler. If the frunk gets funky, just enable the outlet cover and wash it out with a hose.
Impressive EV performance
A fun and memorable hallmark of EVs is their instant access to all that power that those battery cells can provide. (Okay, torque limiters are put in place to keep Larry Leadfoot from getting too carried away.)
[Related: Self-driving F-150 lowers driver stress]
The F-150 Lightning is the fastest truck Ford has ever produced. Farley said it will go from zero to 60 in the mid four-second range. That's faster than Raptor and about evenly matched with the supercharged 702-hp Ram TRX which Ram says has a zero to 60 time of 4.5 seconds (reporters at MotorTrend and Car and Driver have reported better numbers).
Quick acceleration is a thrill.
"It hauls ass and it tows like a beast," Farley said.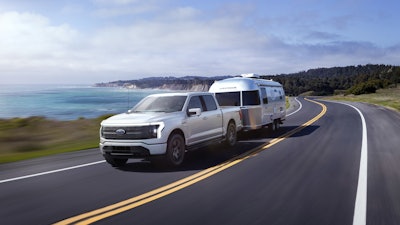 President Joe Biden was also impressed with the pickup's performance during a surprise test drive this week at Ford's Rouge plant in Dearborn, Mich.
"This sucker's quick," Biden told reporters.
Farley praised the truck for its quiet but dominating power and noted that it handles better than a conventional truck.
"I was completely blown away. It's like no pickup truck I've ever driven," Farley said. "The driving experience is a complete thrill. We're targeting 770 foot pounds of torque and just under 600 horsepower. The zero to 60 for this truck is in the mid four-second range. That's quicker than the Raptor and it's a lot quicker than the original SVT Lightning performance truck. But what makes it so unique is that it's so quick yet super quiet inside and so smooth."
The truck gets a new independent rear suspension and four wheel drive comes standard. A "very low center of gravity," Farley explained, comes courtesy of the battery pack housed between the front and rear axles.
Self-driving is available through Ford Co-Pilot360's BlueCruise which allows for hands-free driving on more than 100,000 miles of pre-qualified divided highways in the U.S. and Canada with more Hands-Free Blue Zones to come in the future.
Advanced digital experience in the cab
Making its truck debut on F-150 Lightning in the Lariat and Platinum series is SYNC 4A which is supported by a 15.5-inch touch screen and designed to adapt to driver behavior.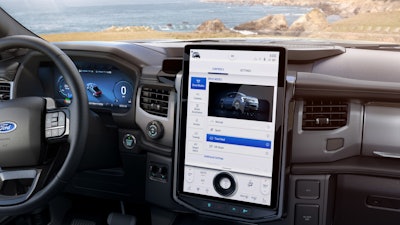 SYNC 4A employs natural voice control, cloud-connected navigation and wireless access to various services like Apple CarPlay, Android Auto, integrated Amazon Alexa and SYNC AppLink apps.
A 12-inch instrument cluster features a customizable interface designed to instill confidence by naturally surfacing key information. Animated graphics relay how the vehicle is performing in hands-free highway driving mode or how well you're bringing power back to your vehicle through regenerative braking.
"It really is the smartest F-150 we've ever made," said Darren Palmer, general manager, Battery Electric Vehicles, Ford Motor Company. "F-150 Lightning offers an immersive touch screen, giving our customers all the info they want in an instant – a real-time view of where they're going, what they're hauling or how much real-world range they've got banked. And with Ford Power-Up software updates, the experience is only going to get better."