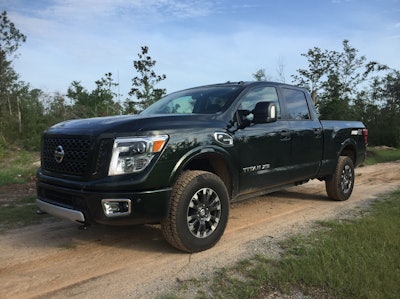 I first test-drove the 2015 Nissan Titan XD diesel in 2015 during a Nissan press event in Arizona where the 5/8-ton proved to be an impressive and techy workhorse.
I still recall hearing the pedestrian alert going off when another reporter walked in front of the truck. It was a nice reminder of how safety technology continues to roll out to larger vehicles like pickups. Keep it coming. GM and the University of Michigan recently reported how collision mitigation technology has reduced accidents by as much as 81 percent. You have to appreciate that.
Because it had been a while since I had last driven the Cummins-powered pickup, I reached out to Nissan to see if I could get a loaner to test here in Panama City, Fla.
They took me up on the offer and before too long we were putting the truck to work towing a tractor and loading up the box with plenty of firewood courtesy of Hurricane Michael.
Then came the news. Nissan Nation Podcast broke the story that the diesel option in the Titan XD would be coming to an end starting with model year 2020.
Four years earlier the engineers had been all smiles when telling reporters how they had gotten the 5.0-liter Cummins V8, paired up with an Aisin 6-speed automatic, to hit 310 horsepower and 555 lb.-ft. of torque. Now it was gone and would be replaced with Nissan's 5.6-liter Endurance V8 gasser which for the 2020 Titan and Titan XD is getting a slight bump in horsepower from 390 to 400 and a smidgen of more twist from 390 to 394 lb.-ft. of torque. But really…it's little consolation for the loss of triple-nickel torque, as the engineers had proudly called it.
If you're so moved, you can still buy an oil-burning 2019 Titan XD. You can even get it in a regular cab, which will be discontinued for model year 2020. In fact, only the crew cab variant will be offered for the 2020 Titan XD.
So…does this mean that the Titan XD could be on the way out? Maybe. After all, the 2020 model shares the same powerplant as the smaller ½-ton 2020 Titan which just doesn't seem right. Being a 5/8-ton, the Titan XD is a larger truck (roughly 12-inch longer wheelbase than Titan with bigger brakes and a larger rear axle) which puts a lot of drivers at ease when towing.
The 2020 Titan XD 4×4—it'll be offered only in a 4×4 crew cab—is rated to tow a gooseneck max of 11,000 pounds (two-inch hitch is 120 lbs. less) while the hitch on the 2020 Titan crew cab (no gooseneck) maxes out at 9,350 lbs. in 4×2 and 9,210 lbs. in 4×4. Conversely, the 2019 Titan XD diesel crew cab tows up to 11,960 pounds at the gooseneck. Towing goes up to 12,710 lbs. in the 2019 Titan XD single cab 4×2. But you better move fast because both the single cab and 4×2 options are gone for 2020 Titan XD.
GVWR for the 2020 Titan XD tops out at 8,800 lbs. (Pro4X) a 190-pound decrease from the 2019 model. GVWR on the 2020 Titan is rated at 7,100 lbs. in 4×2 and 7,300 lbs. in 4×4 across all trim levels.
The real winner here may be the ½-ton 2020 Titan which Nissan pointed out now has best-in-class horsepower and torque. Pricing could be key but we'll have to wait until early next year when both trucks arrive at dealers.
Still, it's the 2020 Titan XD that's got me wondering. It's following in some pretty big footsteps. It's just hard to get your head around dropping a less powerful engine in a 5/8-ton truck. But greater towing power and towing comfort in the larger 2020 XD may win over buyers over from the smaller 2020 Titan and other half-ton trucks, so long as the price is right.
Safe and steady workhorse
Trees. Bunches of them. Heritage oaks older than the U.S. itself, turkey oaks, tall pines, magnolias and the list goes on. Hurricane Michael, one of only three known category five storms to hit the U.S., smacked us hard—super hard—in Panama City, Fla.
When we walked out of Good Shepherd Lutheran's Cold War bomb shelter, it looked absolutely horrible. Unrecognizable. The word 'war zone' kept coming up. Snapped trees, snapped power poles, mangled vehicles (including our own) devastated buildings and homes (including our own)—just the nastiest sight we'd ever seen. And thankfully it was quickly countered by one of the most welcomed sights ever—a procession of trucks coming from various states to help us through recovery which is still ongoing over one year later.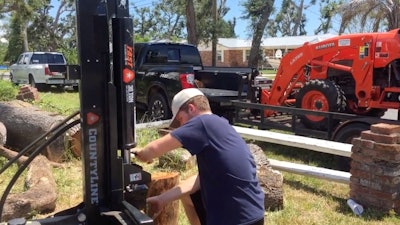 Trucks were instrumental. Every day. The morning after the storm, my kids and I teamed up with the neighbors to cut and move fallen trees out of the road. A pickup driver from Pensacola showed up and used his truck to pull large, cut limbs out of the way.
Utility trucks, debris trucks, dump trucks, tow trucks, fire trucks, moving trucks, tractor-trailers—they all kept coming around the clock to help this old Civil War town pull through. (People usually think of spring break when they think of Panama City, but the story here is a lot longer and far more interesting than that.)
So, bottom line, we needed as many trucks and workers as we could get to put this place back together. We still had plenty of work to do months after the storm, so I reached out to Nissan and some other OEMs to see if they'd be willing to let us test their trucks during hurricane clean-up. The 2019 Nissan Titan XD Pro4X diesel came first.
I can't say enough good things about this truck's towing and hauling capabilities. We used the two-inch hitch to tow a Kubota tractor on a flatbed (about 7,000 pounds) to our mangled home in Parker where the eastern side of the storm's eye had passed over. Several massive heritage oaks toppled over like dominoes and knocked gaping holes in the roof. It could have been worse. A neighbor down the street had his new home collapse around him as he raced out the front door during the storm.
As you'll see in the video below, we had to cut up the fallen oaks in manageable sections, pare them down with the log splitter and pile up the resulting firewood in the back of the truck. With a fully loaded box and trailer, the Titan XD handled the weight like a champ. Though not equipped with a diesel brake, the Aisin six-speed dutifully downshifted during deceleration and provided a safe and smooth approach to red lights.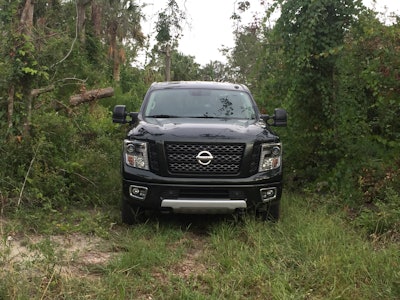 Acceleration while towing and hauling that load was impressive. That's where the powertrain, captained by a Cummins V8, shines strong. It's sad to see it go, but smaller diesel engines with impressive horsepower and torque are coming on strong. Guess it was just too little, too late.
While powerful, this engine likes to slurp diesel a little too fast. Fuel mileage dropped to around 7.5mpg while towing and hauling in city traffic. On a 288-mile trip from Atlanta to Panama City, we averaged 19.5mpg highway. During city driving without any hauling or towing we averaged 14.5mpg. Numbers like that would have been fine just a few years ago, but now smaller ½-ton diesels that are rated to tow roughly the same or more are getting over 30mpg highway.
And while on the note of the disappearing Cummins 5.0-liter diesel, both Cummins and Nissan told Hard Working Trucks they'll continue to offer support for the short-lived diesel. One just hopes that it doesn't go the way of the rare Perkins oil burner once offered in the Ford Ranger from the early 80s. Online parts forums seem to double as support groups for the little oil burner that could and still can so long as parts are around.
Creature comforts
Leather-appointed seats (8-way adjustable driver; 4-way adjustable passenger front) with Pro4X badging were comfortable. The vented feature on the front seats (rear seat is heated only) was nice on hot days. No complaints from our crew on Fender's 12-speaker audio system.
Plenty of USB charging ports front and back to keep devices up and running (plus access to three round 12-volt plug-ins and 110-volts). Nissan probably has the record on cupholders—16 in all. Our big crew had plenty of places for their drinks.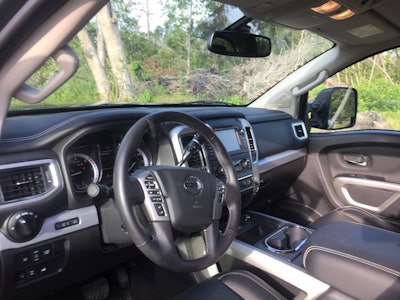 Storage offerings are impressive in the Titan XD from the large center console in the front to storage compartments under the rear seat and the Titan boxes in the bed.
Speaking of the Titan boxes…Nissan had suggested using their boxes as coolers at the Titan XD event in Arizona in 2015. They had even filled the boxes with ice and drinks. Plugs at the bottom of the boxes can be pulled to let the excess water drain out.
As you'll see in the video below, I did a cooler challenge between the Titan boxes and a nearly 30-year-old Coleman cooler. The Coleman won easily. Not even close. I used the same amount of ice and drinks in both and used a temperature gun to see how well the Titan box could keep its cool. Not good. I mean, it's a good idea and would be better served if Nissan teamed up with Coleman, Yeti or some other cooler king.
Back to the back seat…flipping the 60/40 rear seat up not only provides access to more storage but also reveals fold-out platforms which provide a nice level surface just above the floor in for more stuff. They came in handy when we were hauling boxes.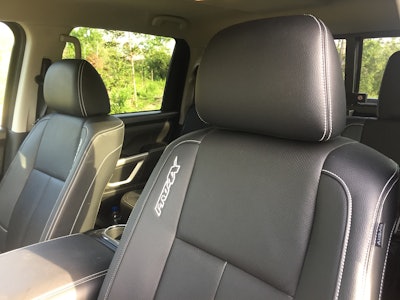 Dual A/C kept us cool on hot days. However, there are only two vents on the back of the center console for the folks in the rear. There is no separate fan switch. It's not that I'm saying that I must have actual rear A/C with a separate evaporator, it's just that having another fan at those vent points can help move out that cool air better during these hot Florida days.
The Nissan Titan XD diesel is far from being a failure, and it's too bad that on paper it didn't make the cut among executives who hold the keys. It's a super competitive space that's gotten more competitive with new diesel arrivals. It's our hope that Nissan will not abandon diesel all together. The technology continues to make impressive strides. Let's not forget Achates near-zero two-stroke diesel that's undergoing testing in California. It wasn't that long ago that Achates put their two-stroke oil burner under the hood of an F-150 at the Detroit Auto Show. It would look just as good in a Titan XD. Either way, diesel still has plenty of life to give.