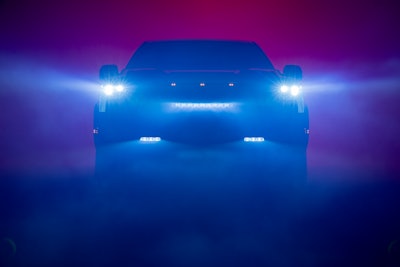 Toyota
Toyota's brief peak this week of its all-new 2022 Tundra suggests that the truck is flexing much more serious muscle.
While there's not much to see, video posted below shows that the grille has been paired up with additional lights which give the truck more of an off-road ready, heavy-duty appearance. Three lights in particular along the front of the hood suggest that the Texas built pickup has been lit up to meet code for vehicles that are over 80 inches wide.
Car & Driver thinks the 2022 Tundra will probably be getting a twin-turbo 3.5-liter V6. Sound familiar? Ford uses two versions of a 3.5-liter V6 in its popular F-150.
[Related: Toyota rolls out new 2021 Tundra Trail and Nightshade editions]
With competing brands stepping up in power, fuel efficiency and increased towing and hauling, it's likely that Toyota has made its full-size truck stronger and more fuel efficient.
The biggest powerplant that Toyota currently offers, the proven but dated 381-hp 5.7-liter V8 that's paired up with a six-speed automatic, gets a cringy 13mpg city and 17mpg highway.
While the Tundra's reputation for reliability has been strong, rising fuel costs amid growing inflation concerns could push fleets away from the 2022 model year—unless engineers have stepped up mpg.
In April at Auto Shanghai, Toyota did announce that it would be offering hybrid and all-electric trucks. No timeline was given and no models were specified. A hybrid or all-electric Tundra would certainly generate plenty of excitement though higher upfront costs for such tech could prove to be a barrier.
Beyond powertrain improvements, the Tundra has had a dated interior that will need plenty of help to compete with the latest pickups from Ram and Ford.