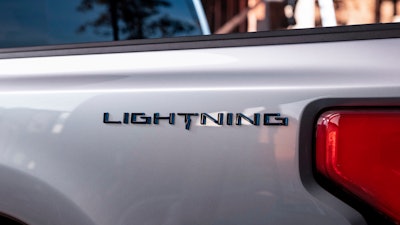 Electric trucks have been getting some serious White House boost the past few years with President Biden being the latest resident at 1600 Pennsylvania Ave. to give a big thumb's up to battery-powered pickups.
Following a tour yesterday at Ford's Rouge plant in Dearborn, Mich. where Ford's all-electric F-150 Lightning will be built, Biden took a spin in the torque-monster half-ton which is set to be revealed tonight at 9:30 p.m. EST.
"This sucker's quick," the commander-in-chief told reporters shortly after driving the truck in a large, open lot.
"How does it feel to be behind the wheel sir?" a reporter asked.
"It feels great, I tell you what," the president responded while sitting behind the wheel with the window down.
"Mr. President, would you buy one of these?" another reporter asked.
"I would," Biden said.
[Related: Ford debuts all-wheel-drive electric F-150 that can power your house]
Biden's thumbs up for the electric F-150 follows President Trump's endorsement of the electric Lordstown Endurance pickup which appeared at the White House last year. U.S. Vice President Mike Pence participated in the truck's reveal in Ohio prior to its White House visit.
Unfortunately, no reporters asked Biden if he thought the F-150 Lightning was faster than his 1967 Corvette, a memorable gauntlet thrown down about an hour before the test drive by Ford Executive Chairman Bill Ford who spoke to a group of mostly UAW workers in the Rouge factory minutes before Biden's scheduled appearance.
"I know the Secret Service may not let you drive yourself," Ford told Biden, "but if you can win them over, you're always welcome to take the F-150 Lightning for a spin and I promise you it's going to give your Corvette a run for its money."
[Related: Electric Chevy Silverado will be available as 400-mile fleet truck]
Biden, who later told that same group that he was "a car guy," made good on Ford's offer and was clearly impressed with the truck's speed.
"Now I don't know if anyone has a stopwatch, but I think that we were going zero to 60 in about 4.3 [seconds]," he told reporters.
If that's true, then the F-150 Lightning has a faster, advertised zero to 60 time than the supercharged 2021 Ram TRX which Ram puts at 4.5 seconds. However, reporters have recorded faster times for the TRX, including 4.1 seconds from Motor Trend and 3.7 seconds for Car and Driver.
Ford may reveal the truck's zero to 60 time tonight during its 9:30 p.m. EST reveal which will be livestreamed on various sites, including Ford's YouTube channel. This much we do know: according to Ford, the F-150 Lightning will have more horsepower and torque than any other F-150.