Chevrolet
If you're really counting, first came the fleet edition electric Chevy S-10 in the late 90s which didn't get very far—quite literally—because of a lead acid battery pack.
It was followed by a somewhat better nickel-metal hydride offering that still lacked the power fleets needed plus it had a miserably long charge time. (Cue the sad kid waiting on his PowerWheels to recharge).
Now, 20 years later, Chevy is back at it but this time with much a much better battery pack and faster charge time. You just can't keep a good idea down especially when all it needs is a better battery. Enter the all-electric Chevy Silverado pickup or at least make way for the announcement of the zero-emission truck.
[Related: Electric GMC Hummer pickup blows away Ram TRX at charity auction]
No model year was given and not much was revealed save that the pickup will have a 400-mile range and be marketed for fleets and retail consumers.
"Pretty awesome. Very, very exciting," General Motors President Mark Reuss said after announcing the electric truck at the company's Factory ZERO assembly plant in Detroit and Hamtramck, Michigan where it will be built.
[Related: A look back at Chevy's electric S-10]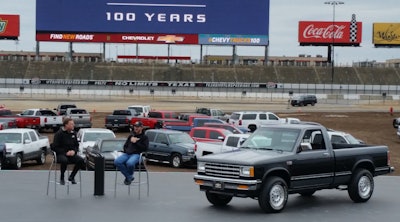 "This all new full-size pickup is designed from the ground up as an electric truck harnessing the best of our Ultium technology and the proven capability of our current production Silverado," Reuss continued. "Retail and fleet versions of the Silverado electric pickup will offer customers a variety of innovative options and configurations. I'm particularly excited about its potential in the fleet and commercial space, a crucial part of the EV market especially initially. We have models specifically designed for fleet and commercial truck customers that I know they're going to love. We'll share more on this in the months to come but rest assured the Silverado electric pickup will be packed with the kind of innovative features our loyal truck customers have come to expect from us and some innovations they can't even imagine yet."
Of course, it would have been super cool and absolutely unforgettable if Reuss had rolled out on stage in an electric 1997 Chevy S10 much like NASCAR great Dale Earnhardt Jr. had done in a 1988 Chevy S10 that closely resembled the truck he had at age 16. (He eventually wrecked that truck, but hey, who didn't get carried away in their first vehicle?) Electric S10s have gained a cult-like following over the years. One cool feature? An electric dump bed lifts up to allow access to the truck's batteries.