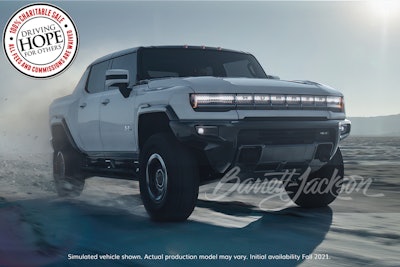 While internal combustion is far from its last gasp, it still took quite a shot to the gut over the weekend at a Barrett-Jackson auction in Scottsdale, Ariz.
Clearly, there was a lot more excitement at the charity auction for the nation's first all-electric super truck from GMC versus the first super truck from Ram.
The 2022 GMC Hummer EV Edition 1 pickup (VIN 001) fetched a jaw-dropping $2.5 million while the 2021 Ram 1500 TRX Launch Edition (VIN 001) pulled in $410,000—or roughly 500% less than its battery-powered competition.
[Related: 2021 Ram TRX test drive]
Both off-road trucks have impressive performance numbers, though the Hummer EV dominates with 1,000 hp, 11,500 lb.-ft. torque, a zero to 60 time of roughly 3 seconds and a strange but undoubtedly useful diagonal-drive function dubbed CrabWalk. (Okay, waiting for the next OEM to offer sidewinder mode.)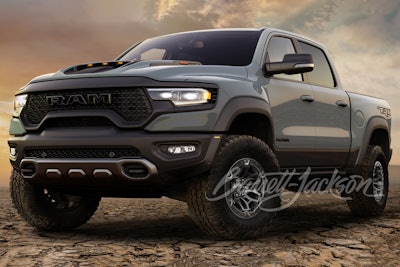 The 2021 Ram TRX offers 702 supercharged horses (quiet is cool, but give me more of the roar please), 650 lb.-ft. torque, a zero to 60 time of 4.5 seconds (high 3s have been reported) and an ability to catch impressive air and land unscathed. Not so sure that GMC or any electric pickup manufacturer is ready to risk battery cell damage from a big jump. (Ever seen an EV battery fire? Watch one here).
While under the hood, both vehicles have nothing in common, they're both poised to tear up some earth on 35-inch Wrangler Territory tires but there's even some differences there too. TRX is riding on specially designed all-terrain Wrangler tires while Hummer EV is riding on Wrangler MT variants. Bottom line: dirt will fly from both trucks regardless of the nuances in tire design.
According to GMC, Hummer EV can travel up to 350 miles on one charge while TRX, at 12 mpg combined, can drive for 276 miles. (Yes, the tide is turning for EV bragging rights on range—at least while not towing or hauling anything substantial). Hummer can reportedly add 100 miles of range during a 10-minute DC fast-charge while the 23-gallon tank in TRX can fill up on high-octane 93 (its recommended fuel) in far less time unless you've been cursed by one of those miserably slow pumps that makes every ad on the pump's video monitor all the more interesting.
[Related: Lordstown electric truck goes up in flames]
But then comes the bane of EV existence…towing and payload. We already know from our Class 8 electric truck source in Southern California that once you start loading down an electric Freightliner eCascadia, it cannot compete with internal combustion on range. GMC has not yet released towing and payload numbers on Hummer EV yet. Once they do, the impact on range relative to load will be an interesting one to watch.
"Honey, hold on while I punch these numbers in to see if we can haul your mother's things all the way to Fresno. I think we'll have to stop and charge somewhere," a concerned Hummer EV owner reports just moments after shaking his head at new tax hikes for EV owners in California (What? You think the Golden State is going to just shrug at losing a bundle in fuel taxes while folks shift to EVs?)
The 2022 Hummer EV Edition 1 is tops in price with an MSRP of $112,595. It rolls out this fall. Reservations are full. The 2021 Ram TRX Launch Edition, priced at $92,000, sold out the first day it was offered last summer.
All proceeds from the Barrett-Jackson charity auction sale of the 2022 GMC Hummer EV Edition 1 pickup benefitted the Stephen Siller Tunnel to Towers Foundation. All proceeds from the sale of the 2021 Ram 1500 TRX Launch Edition went to United Way of Southeastern Michigan.