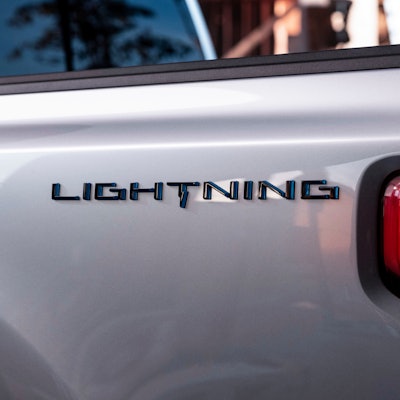 Ford
Who says lightning never strikes twice in the same place?
Ford announced today that its eagerly awaited all-electric F-150 will be called Lightning, the same name of its high-performance street truck which was available for nine, non-consecutive model years from 1993 through 2004.
In addition to the name announcement, Ford released an image of the truck's exterior bed wall which bears the Lightning name. The rest of the truck will be live streamed publicly on various social media platforms during the official reveal on May 19.
Of course, the name is about all these two trucks share. The all-electric F-150 with access to instant battery-powered torque will smoke its predecessor, an important distinction raised in an interesting, Tesla-affirming statement given by Ford President and CEO Jim Farley. Though Farley and Tesla CEO Elon Musk have generated plenty of news though their social media spats, Farley tipped his hat to the innovative billionaire.
"Every so often, a new vehicle comes along that disrupts the status quo and changes the game…Model T, Mustang, Prius, Model 3. Now comes the F-150 Lightning," Farley said. "America's favorite vehicle for nearly half a century is going digital and fully electric. F-150 Lightning can power your home during an outage; it's even quicker than the original F-150 Lightning performance truck; and it will constantly improve through over-the-air updates."
Given the enduring popularity of the original F-150 SVT Lightning, iSeeCars Executive Analyst Karl Brauer applauded Ford's decision to pass along the name to the all-electric version.
"Ford's history with the F-150 Lightning name makes for a great opportunity with the new, all-electric truck," Brauer said. "Ford fans remember the previous F-150 Lightning as a fun and capable performance truck, and with the instant torque provided by electric motors, it's likely the new Lightning will live up to that image when it's revealed on May 19th. We see people currently selling and shopping for the original F-150 Lightning on iSeeCars.com, confirming an ongoing following for this nameplate."
Production of the F-150 Lightning begins next spring at the all-new Ford Rouge Electric Vehicle Center.