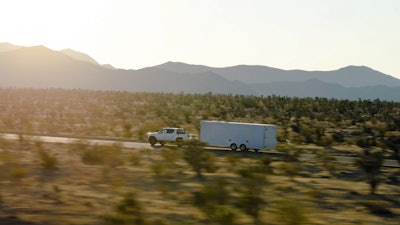 Rivian
Hats off to Rivian for revealing impact on range while towing in their soon-to-be released R1T all-electric pickup.
Towing and payload capabilities are critical in the commercial vehicle space but have frequently been avoided—at least in terms of range impact—by OEMs aiming to release electric pickups and vans.
Fleets remain very interested in eliminating emissions while sharply reducing cost of ownership (at least 40% less for the all-electric Transit compared to conventional according to Ford CEO Jim Farley), but the ability of these quiet, clean-running machines to step in and take the place of their fossil-fuel counterparts has been somewhat of a mystery.
Rivian may have solved a significant part of that mystery by posting the following on their website regarding the towing capacity of their R1T. (Impact on range relative to a max payload of 1,763 lbs. is not provided).
Our powertrain, thermal system and frame structure enable the R1T to tow up to 11,000 pounds in all variants. When towing at full capacity, you can expect around a 50% reduction in range.
Though Rivian has yet to announce their battery manufacturer, it's safe to assume that they'll be using more or less the same lithium-ion batteries which have been powering other EVs. Variations do occur, particularly regarding cobalt and nickel content, but energy density is relatively the same.
[Related: Amazon electric vans from Rivian go to work]
With that being said, Rivian's math on range impact could probably apply to other yet-to-be released electric pickups such as the Chevy Silverado, Ford F-150 Lightning, GMC Hummer EV and Lordstown Endurance.
With that in mind, will most fleets shy away from an electric truck or van given diminished range brought on by towing and payload demands? If duty cycle is relatively predictable and doesn't bring up range concerns, then the move to electric trucks can be a serious win considering the drastically lower cost of ownership. (Okay, and yes, there's positive PR points for using zero emission vehicles not to mention state and federal subsidies.)
The 50% reduction in range brought on by max towing in the R1T isn't too surprising and, frankly, not terribly bad. While towing roughly 7,000 lbs. and hauling a bed full of oak firewood with a diesel-equipped 2019 Titan XD, our fuel economy dropped from 14mpg city to 7.5.
[Related: Hino teams up with Israeli start-up to produce versatile EV platform]
But Rivian's not exactly marketing to cost-conscious fleets, unless you're running a landscape business in Aspen or some other affluent locale. Starting price for their 300+ mile R1T is $75,000. The Lordstown Endurance, which is aimed directly at fleets, starts at around $52,500 for 250 miles of range. Max towing is far less at 7,500 lbs.
Do any of those costs cover chargers or charger installation? No. Prices on Level II chargers vary widely. A commercial Bosch EV800 is currently priced at roughly $2,000 while a MUSTART portable EV charger designed for home use (it can plug into the dryer's 240-volt outlet) sells for $340.
When considering a 40% reduction in cost of ownership for an EV, the additional costs for a charger are still very much worth it—at least for a Class 1 vehicle. A source familiar with Class 8 electric trucks said a charger for an electric semi can run over $100,000. Going green at the level can cost some serious green.
Keep in mind that Rivian's not exactly promoting the towing prowess of its truck. Of the 88 photos posted on its media website of the R1T, only one shows the truck actually towing—in this case, a dual-axle box trailer shown above.
From the beginning, Rivian's made it clear that the truck is being marketed as a recreational go-getter. That would explain the abundance of promotional off-road and camping photos of the R1T. Regardless, some companies will find the truck to be a good fit.