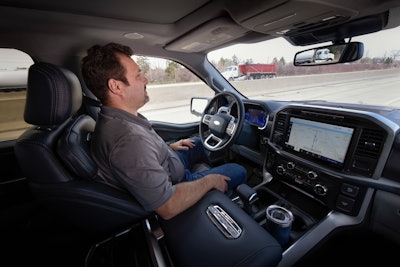 Ford
Ford is betting that driving its F-150 on a long road trip will get easier thanks in large part to its engineers and a series of long road trips they undertook to validate the company's new BlueCruise self-driving feature.
After 110,000 miles of road testing across the U.S. and Canada, Ford announced today that BlueCruise hands-free highway driving will be available later this year for 2021 F-150 and 2021 Mustang Mach-E vehicles equipped with Ford Co-Pilot360 Active 2.0 Prep Package.
"Some driving can be stressful but we're confident that BlueCruise hands-free technology will make some highway driving a much less stressful driving experience," Alexandra Taylor, active safety engineer at Ford, said in a video posted below that reveals more about BlueCruise road testing.
Ford CEO Jim Farley tweeted today that Ford engineers tested BlueCruise across the U.S. and Canada so "our customers don't have to."
[Related: Hybrid F-150 has 700-mile range, exportable power and self-driving capability]
The swipe is seemingly directed towards Tesla with its self-driving Autopilot system which was released to customers in 2015 as a beta or test version. The system has been blamed on various crashes through the years some of which have been fatal.
To be clear, both automakers stress that drivers must remain attentive and ready to assume control of the car.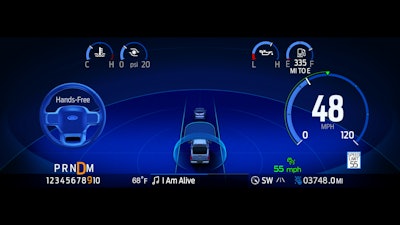 Following development changes, Tesla drivers must now keep their hands on the steering wheel while using Autopilot.
Ford's BlueCruise doesn't require steering wheel contact but instead uses active camera monitoring to scan driver eye movement—even through sunglasses—to ensure that drivers are keeping their eyes on the road ahead.
"BlueCruise is an SAE Level 2 driver-assist technology, similar to Tesla Autopilot but with the advantage of offering a true hands-free driving experience while in Hands-Free Mode that does not require a driver's hands to stay in contact with the steering wheel, unless prompted by vehicle alerts," Ford states in its press release.
Last year's 110,000-mile road test, dubbed by Ford as the Mother of All Road Trips (MOART), was carried out by Ford engineers in five F-150 pickups and five all-electric Mustang Mach-E crossovers.
Engineers spent much of November and December testing BlueCruise across 37 U.S. states and five Canadian provinces. The trip marked the final leg of a development process that ran up more than a half-million miles in a series of shorter test drives, each designed to evaluate a specific aspect of BlueCruise. Real-world validation allows scanning for variances in road signage, lane markings, exit ramps, traffic patterns and weather.
[Related: Self-driving icon Anthony Levandowski pardoned by President Trump]
Currently, more than 100,000 miles of highways across North America are dedicated Hands-Free Blue Zones in the Ford GPS mapping system. BlueCruise uses blue lighting on the digital instrument cluster to indicate when the vehicle is in a hands-free zone.
"I drive long-distance quite often, whether out to Boston or down to Florida to visit family or friends, and usually I mentally tire out on drives that far," said Taylor who logged more than 3,000 miles in an F-150 during MOART. "The one thing that became clear is that, when using BlueCruise, long drives aren't nearly as mentally taxing to me."