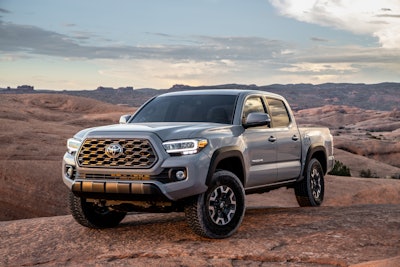 Toyota
If you're thinking of buying a used pickup, you may actually want to pony up and buy new since the price gap between new and used models continues to shrink.
According to the latest study by car search engine iSeeCars.com, the cars with the smallest differences are led by the Tesla Model 3 and several pickup trucks including the Toyota Tacoma, Ford Ranger and Jeep Gladiator. Check out the list below.
Pickups dominate the list of vehicles to buy new probably "due to short supply and high used car prices," iSeeCars reports. No pickups made iSeeCars list of Top 15 Cars to Buy Used Over new.
[Related: Ritchie Bros. reports record used truck sales]
Seven pickups make the list including the Toyota Tacoma, the Ford Ranger, the Jeep Gladiator, the GMC Sierra 1500, the Toyota Tundra, the Chevrolet Colorado, and the Chevrolet Silverado 1500.
"Plant shutdowns during the COVID-19 pandemic led to a widespread shortage of new pickup truck inventory as demand for pickup trucks continued and drastically outpaced supply," said iSeeCars Executive Analyst Karl Brauer. "This led to a shortage in the used car market as well because fewer people were trading in their trucks, while used truck demand remained high due in part to a surge in home improvement projects. Additionally, the Jeep Gladiator was new to the market in 2020 and the Ford Ranger was reintroduced for the 2019 model year after a multiyear hiatus, creating a short supply of these much buzzed about pickups."
iSeeCars.com analyzed asking prices from over 2.6 million new and used cars sold from August 2020 to March 2021. It identified the top 15 vehicles that have the smallest price difference between new and one-year-old used versions of the same vehicle, as well as the 15 cars with the largest price differences.
"While lightly used cars typically provide cost savings over their new versions, sometimes buying a new version of the car is a smarter financial decision, especially for consumers taking advantage of the lower finance rates that typically come with new cars," Brauer said.