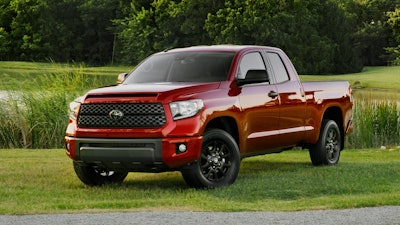 Toyota
While new pickup sales haven't returned to pre-pandemic levels, used truck sales have rebounded and then some according to iSeeCars Executive Analyst Karl Brauer.
Amid an ongoing semiconductor shortage that's impacting new truck inventories, OEMs are pushing hard to keep up with demand which is boosting used truck sales along with prices.
"New truck sales dropped by 33.9% from April 2019 to April 2020, then increased by 19.1% from April 2020 to April 2021," Brauer explained. "Used truck sales dropped by 24.2% from April 2019 to April 2020, then increased by 46.2% from April 2020 to April 2021.
"Interestingly, if you compare April 2019 vs. April 2021, new truck sales are down 30.7% while used truck sales are up 11.0%, which shows that new truck sales haven't recovered to pre-pandemic levels but used trucks have," Brauer continued.
[Related: Ritchie Bros. reports record used truck sales]
This week, billionaire Jeffrey Gundlack, founder and CEO of DoubleLine Capital, told Yahoo Finance that he bought a used truck because his dealer did not have any new models to offer.
"I actually bought a truck a couple of weeks ago. And the lot, the car dealer's a big car dealership, they had no new trucks. There weren't any," said Gundlach who blamed the chip shortage. "All he had on his entire lot were used trucks."
Chip shortage or not, trucks will remain in high demand, Brauer said, and demand will outpace supply for the remainder of 2021.
"The decline in new truck sales is likely due to inventory constraints, rather than demand as dealers are forced to have leaner inventory due to the chip shortage," Brauer said. "We are also seeing an increase in prices for used pickup trucks, which consumers are willing to pay due to their scarcity. For example a 2018 Ford F-150 XL, increased in price from $27,000 to $34,000, an increase of 25.4% in April 2021 over April 2020."
Only one pickup, the Toyota Tacoma, made iSeeCars list for the Fastest-Selling New and Used Cars in April 2021.
"The Toyota Tacoma dominates the segment and accounts for 44% of all new midsize pickup truck sales," Brauer said. "However, all other mainstream midsize pickups saw sales gains for Q1 2021 over 2020. Toyota prioritized the Tacoma and idled production of the Tundra, while GM idled production of its midsize pickups in favor of its more profitable full-size ones."