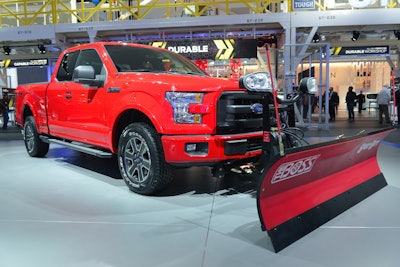 All-New Ford F-150 Will Offer Snow Plow Prep Option Across All 4×4 V-8 Models
Good news for landscapers and contractors that turn to snow and ice removal during the winter season: 2015 F-150s will offer a Snow Plow prep option for all 2015 F-150 4x4s with the 5.0L V-8.
Ford will be the only manufacturer to offer a light-duty snow plow prep option across all cab configurations – Regular, SuperCab and SuperCrew – and XL, XLT and Lariat trim levels.
When snow plow mode is activated via the push of a button, the 2015 F-150 temporarily turns off nonessential features to provide dedicated power for the plow.
The option package requires the truck be equipped with a 5.0-liter V8 engine and four-wheel drive, and is available across XL, XLT and Lariat trim levels. The new F-150 can handle plows weighing more than 450 pounds.
"The new 2015 F-150 is the toughest F-150 ever, and by using more high-strength steel in its frame and advanced materials in the body, we've made the new truck up to 700 pounds lighter," said Eric Peterson, Ford F-150 marketing manager.
RELATED: Setting up Your Pickup To Plow
"This leads to more capability and better handling, which is exactly what you'd want for plowing. Adding a snow plow prep kit to our lineup helps ensure our customers have even more tools at their disposal to get the job done."
Upon taking delivery of a new F-150 with the snow plow prep option, owners will need to take their truck to a Ford Qualified Vehicle Modifier to purchase and install the plow hardware. The maximum light-duty plow weight will be over 450 pounds.
Pricing for the snow plow prep option, excluding the plow, will be announced later this year.
The all-new 2015 F-150 will arrive in dealerships at the end of 2014.