Sunday's the big day, if you're an advertiser looking to blow out the budget by buying a minute or so of the most expensive airtime in the known universe. There's also going to be some football in between commercials.
Automakers have long been among the biggest spenders on Super Sunday, although the economic downturn and the need for federal government bailouts trimmed budgets somewhat.
But Ram Trucks came back big last year with "Farmer," among the most talked-about spots on the big stage.
What can hard working truck buyers look forward to for Sunday's Super Bowl?
Chrysler/Ram Trucks has been tight lipped, with one industry observer calling the secrecy surrounding this year's spots " Madison Avenue's version of the Manhattan Project."
Chevrolet, however, is taking the bull by the horns, so to speak, riding the social media strategy of leaking one of its spots in advance.
In the new spot, called "Romance," Chevy cowpokes a little fun at the traditional, macho-man ads geared to truck customers.
And Ford is jumping the gun, too, but only by a few minutes. The company has opted not to buy time during the game, and instead will run its spot between the coin toss and kickoff, saving a little on the $4 million cost of running an ad between whistles.
Actor James Franco is reported to be Ford's pitch man, and the smart money says he'll be selling the recently revealed aluminum F-150.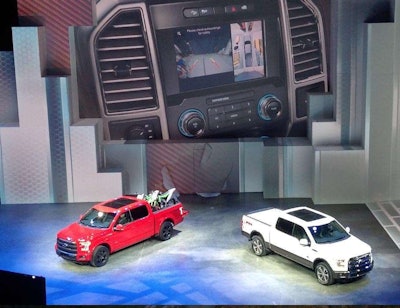 (HWT's pickup pro Bruce Smith has extensive F-150 coverage from the Detroit Auto Show reveal here.)
And the F-150 is a safe bet: getting the word out on the changes ahead for the nation's best-selling car or light truck during the nation's most watched television event. Stay tuned.
Feel free to comment below come Sunday.