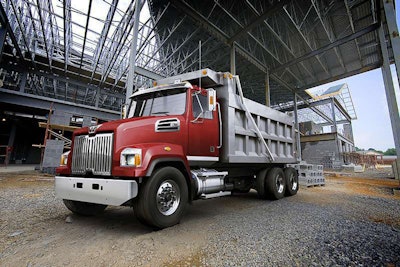 Western Star Trucks, Inc. says the Allison 4700 Rugged Duty Series (RDS) series automatic transmission is now available for the Western Star 4700.
The Allison 4700 RDS transmission features 2nd Reverse, which offers a second "deep reverse" in addition to the standard reverse to provide greater control and engine braking during operation on steep grades. Other benefits to the Allison 4700 RDS include primary and secondary shift schedules to enhance fuel efficiency; seamless full-power shifts for faster acceleration; and ease of startability.
"When paired with the Allison 4700 RDS, the Western Star 4700 is a cost-efficient yet powerful solution for the most demanding of jobs," says Peter Schimunek, marketing segment manager for Western Star. "This new offering further broadens our ability to provide a wider range of options for our vocational customers."
The Western Star 4700 model is available with the Detroit DD13, Cummins ISC or Cummins ISL engines, and can also be spec'd with Allison 3000, 4000 and 4500 RDS transmissions.