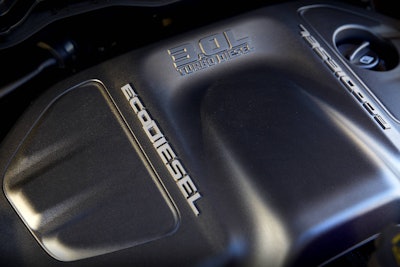 2014 Ram 1500 EcoDiesel Sets New Fuel-Economy Benchmark of 28 MPG
If maximizing fuel economy is your goal with the next 1/2-ton pickup purchase, you'd do well turning attention to the 2014 Ram 1500 with the 3.0L EcoDiesel V-6.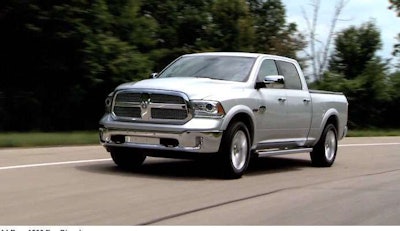 The EcoDiesel-powered 2014 Ram 1500 has earned a 28-mpg rating from the U.S. Environmental Protection Agency (EPA), the best highway-cycle test result ever achieved by a full-size, half-ton pickup.
Ram Truck's new entry also exceeds the EPA highway rating for the top-ranked small pickup.
Factoring in the 2014 Ram 1500's 20-mpg city-cycle certification, the all-new 3.0-liter EcoDiesel V-6 helps rewrite the full-size segment's combined-cycle record books with 23 mpg.
The engine is backed by Chrysler's TorqueFlite 8-speed automatic.
RELATED: Ram 1500 EcoDiesel First Drive
The Ram 1500 now owns the half-ton pickup segment's top two spots in the EPA's 2014 highway fuel-economy rankings. Both the 2013 and 2014 Ram 1500s quipped with a 3.6-liter Pentastar V-6 gasoline engine earned 25 mpg highway rating.
The EcoDiesel is the first and only turbo-diesel offering in the half-ton pickup segment, delivering 420 lb.-ft. of torque, which is unsurpassed among full-size trucks equipped with V-6 engines.
Named one of Ward's 10 Best Engines for 2014, the EcoDiesel V-6 was a significant factor in the Ram 1500's selection as 2014 Motor Trend Truck of the Year.
RELATED: Inside The EcoDiesel 3.0L V-6