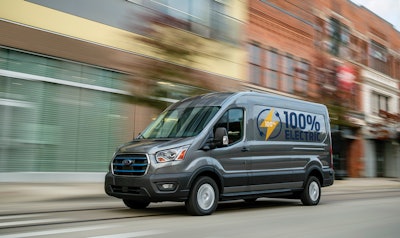 Ford
Ford reported that over 20,000 of its upcoming all-electric 2022 E-Transit vans have been earmarked for purchase since the van's registration site went live May 4.
Ford CEO Jim Farley introduced the van with a 40% reduction in total cost of ownership versus conventional which caught on with more than 1,000 customers who registered their interest in buying the vans before order banks went live for the battery-powered van on Monday.
[Related: Ford reveals 2022 E-Transit van with 40% savings in TCO]
FE-Transit, the first all-electric cargo van from a full-line automaker in North America, is an electrified version of Ford Transit, the nation's best-selling commercial van.
Built alongside Transit at Kansas City Assembly Plant, E-Transit is designed to serve a wide range of commercial applications beyond last-mile delivery with a choice of eight configurations, including cargo van with three roof heights and three lengths, plus chassis cab and cutaway models.
Karl Bauer, executive analyst at iSeeCars, sees electric vans and trucks as being a good match for fleets that can work within range capabilities.
"Electric trucks and vans are potentially ideal for fleet use," Bauer said. "These vehicles usually have a consistent, predictable driving pattern each day before returning to 'home base' every night. Assuming the route these trucks drive isn't beyond the EV's range, and assuming there's sufficient charging infrastructure at home base, an electric truck or van makes perfect sense.
"They offer better low-speed power and torque," Bauer continued. "They are cheaper to power. They have fewer parts to service. And they don't emit any CO2, providing multiple tax benefits for the fleet operator. Rising fuel prices is yet another advantage they offer, shielding the fleet operator from the often wide swings in fuel costs from one year to the next."
To order E-Transit, customers should contact their local Ford dealer or fleet account manager. The 2022 E-Transit is scheduled to roll out in late 2021 with a starting MSRP of under $45,000 for U.S. fleet customers and comes backed with an eight-year, 100,000-mile electric vehicle component warranty.
E-Transit is part of Ford's more than $30 billion investment in electrification through 2025. The van will be a centerpiece vehicle in the new Ford Pro global vehicle services and distribution business Ford recently launched to increase uptime and reduce ownership costs for commercial customers, helping deliver higher productivity and performance.