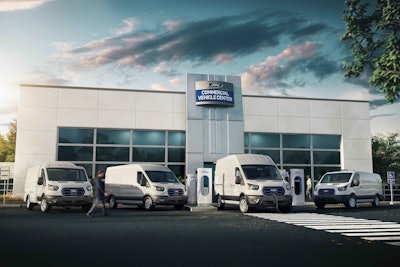 Ford on Tuesday opened its website for would-be early adopters of the company's first-ever full-size all-electric E-Transit van. The "hand raising" period, Ford said, allows potential customers to register their interest in learning more about van ahead before order books open in July.
Along with the registration site, E-Transit has updated pricing. The now-targeted starting MSRP of $43,295 for the cutaway is lower than originally announced. The high-roof extended-wheelbase cargo van is expected to command $52,690.
To date, Ford says more than 450 commercial customers in North America, including 200 top fleets and fleet management companies, have expressed interest purchasing the E-Transit. Data compiled by Ford suggests that 70% of the U.S. full-size bus and van business will be fully electric by 2030 – representing more than 300,000 vehicles annually.
"We've had so much interest early on, we wanted to open this registration site to serve customers with a build mix for their needs across all van body styles," said Ted Cannis, general manager, North American commercial business. "Some customers want high-roof vans to maximize internal cargo space, while others need to install bodies on cutaways and chassis cabs. Customers will have an all-electric solution – from box truck delivery to parking structure-friendly utility service vans and everything in between."
E-Transit is an electrified version of Ford Transit, America's best-selling commercial van and will be built alongside the Transit at Ford's Kansas City Assembly Plant in Claycomo, Missouri.
E-Transit offers eight configurations, including cargo van with three roof heights and three lengths, plus chassis cab and cutaway models, lending itself to a wide array of applications. Preliminary conversations with commercial customers, Ford said, indicate a healthy mix for demand across all eight configurations, with roughly 40% leaning toward high-roof vans and 60% pointing to medium-roof, low-roof, cutaway and chassis cab versions.
Internal Ford data shows early order indicators favor the delivery segment – ranging from wholesale goods to packages, groceries to replacement parts – with many other vocations in the hand-raisers group looking to take advantage of E-Transit versatility. These include equipment rental; local, state and federal government agencies; utility services; and telecommunications. Customers have shared plans to use E-Transit for recreational vehicles, school buses, automotive service, carpet cleaning, service vans and other commercial applications. More unusual applications offered include armored transport, blood donation units and prisoner transport.
Customers can sign up at the new E-Transit registration site on Fleet.Ford.com to review the targeted starting MSRP and targeted driving range for all configurations for E-Transit cargo van. Customers can also indicate their desired versions and receive the latest news on E-Transit, including notification when order banks open. No deposit or purchase commitment is required.
With a usable battery capacity of 67 kilowatt-hours4, the low-roof E-Transit cargo van has a targeted driving range of 126 miles, well above the industry average. Insight from 30 million miles of Ford telematics data shows the average commercial van drives 74 miles per day.
E-Transit offers the same cargo dimensions and standard mounting points as the gas-powered van so fleets can continue to use the same upfits, racks, bins and accessories currently in use.
Ford forecasts potential savings in the switch to electrification, as scheduled maintenance costs over eight years/100,000 miles are projected to be 40% less than the gas-powered Transit based on recommended service schedules published in 2019 and 2020 owner's manuals. E-Transit is backed by 645 Ford Commercial Vehicle Center dealers across the U.S. – about 90% of which are electric vehicle-certified – for easy sales and service.
Early production E-Transit vans are expected to arrive this summer across North America this summer as Ford rolls out a pilot program in which key customers test the electric van across a variety of vocational use cases.