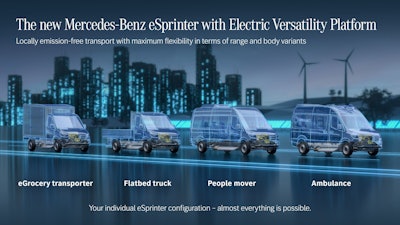 Mercedes-Benz is pointing to electric vehicles as the "future of mobility" and as such is gearing up for eSprinter production in the U.S. and Germany.
On Tuesday, the automarker announced that it had reached an agreement with employee representatives to begin implementing production plans for its new Electric Versatility Program at its South Carolina plant in the U.S. as well as its factories in Düsseldorf and Ludwigsfelde in Germany.
Based on a more versatile platform announced at the end of 2020, the next generation of the eSprinter targets new customer segments and markets, including the U.S. and Canada. Mercedes-Benz is investing around $411 million in the next generation eSprinter.
[Related: Ford reports 40% TCO savings with 2022 E-Transit]
In addition to the previously available variant as a panel van, the next generation of the eSprinter will also be produced as a chassis model and will thus serve as a basic vehicle for, among other things, ambulances, motorhomes or refrigerated transporters.
"The future of mobility is electric in the transport sector, especially in the last mile delivery segment," said Marcus Breitschwerdt, Head of Mercedes-Benz Vans. "Our share of battery-electric vehicles is constantly growing. We have consistently aligned our strategy accordingly, and underline with our strategic pillar 'Lead in Electric Drive' our leadership aim in electric mobility in the vans sector.
"With our newly developed Electric Versatility Platform, we are significantly expanding our offering in the commercial series," Breitschwerdt continued. "With production of the next generation of the eSprinter in the USA and in Germany, we ensure market- oriented production."
Dr. Ingo Ettischer, Head of Production at Mercedes-Benz Vans, said production of the eSprinter will begin in the second half of 2023.
"We will benefit from our experience which we have already built up very successfully in the production of electric and conventionally driven vans on a line at our plant in Düsseldorf," Ettischer said. "In the future, we will be able to quickly meet the ever-increasing demand for electrically driven vans and, thanks to our intelligent and flexible production, be able to respond very precisely to the requirements of the different markets and make optimum use of our capacities."