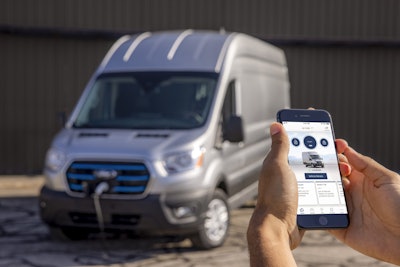 Ford revealed its 2022 E-Transit today and doubled-down on its approach to a carbon-neutral future while embracing California's zero emissions policies along with the Paris Agreement, the international climate protection pact that the U.S. withdrew from in 2017 under President Donald Trump.
"This is the path we're on," said Ford CEO and President Jim Farley. "Ford is totally committed to being carbon neutral by 2050. We're standing with California for higher standards, lower emissions and cleaner air. And we're proud to support and live up to the Paris agreement."
The 2022 E-Transit is part of a growing line of electrified Ford products, including the hybrid and all-electric F-150, all of which aim to lower emissions while offering capability for demanding commercial applications.
Meeting fleet expectations is no small task with greater needs centering around reduced maintenance and a lower total cost of ownership, both of which Ford said come together in E-Transit.
"E-Transit owners should save about 40% on operating costs tied to scheduled maintenance versus a gas-powered Transit during each vehicle's lifetime," Farley said. "Customers should see more uptime too."
Electrical vehicles have far less parts and in the case of the E-Transit that amounts to "nearly 90% fewer parts in its propulsion system alone reducing the potential for expensive repairs," Farley added.
Range for the low-roof van cargo variant is 126 miles. Ford decided on this distance after analyzing roughly 30 million miles worth of telematics data.
"In the U.S., the average daily range for a commercial van is 74 miles," said Yaroslav Hetman, Ford's global marketing director for electric trucks, vans and commercial vehicles. "Of course we also recognize, that there are days when these range needs are higher and that customers will also need to adjust for factors such as cold weather and payload."
Max payload comes in at 3,800 lbs. and up to 4,290 lbs. for cutaway versions. No word on towing. E-Transit is available in three roof heights and three body lengths as well as cargo, cutaway and chassis cab versions.
An electric motor delivers 266 horsepower and 317 lb.-ft. torque to a rear-wheel drive with independent suspension "for a smoother ride and more traction when the vehicle has increased payload," said Ted Cannis, Ford's general manager of commercial vehicles.
Charge it up please
Ford will offer a variety of charging solutions to fit fleet and driver needs, whether at home, at a place of business or on the road. E-Transit will have access to roughly 13,500 chargers in North America where drivers will have seamless public payment capability and fleet managers can maintain central account and billing management.
E-Transit features both AC and DC fast charging, coming standard with a Ford Mobile Charger that can plug into a normal 120-volt outlet for slow and steady charging or into a 240-volt outlet for faster charging. Those seeking the fastest home charging solution can purchase the Ford Connected Charge Station, which can fully charge E-Transit in eight hours.
On a 115-plus-kilowatt DC fast charger, E-Transit cargo van low-roof models can achieve approximately 30 miles of range in 10 minutes and approximately 45 miles of range in 15 minutes. When plugged into a 240-volt outlet, E-Transit cargo van low-roof models achieve approximately 10 miles per charging hour using the Ford Mobile Charger. Employing a Ford Connected Charge Station brings the number up to approximately 15 miles per charging hour.
Charger locations and range are closely monitored.
"Intelligent range factors in real-time conditions, the terrain and elevation of a given route, traffic conditions and even the temperature at your final destination—all this to provide a more accurate estimate of the vehicle's range," said Patricia Piedrahita, Ford's global digital consumer experience manager.
Portable power and connectivity
E-Transit features optional Pro Power Onboard, which provides up to 2.4 kilowatts of power for powers tools and equipment on job sites and on the go.
When activated, the standard 4G LTE modem unlocks available data subscriptions and delivers connectivity to help commercial vehicle customers manage and optimize fleet efficiency. A range of dedicated electric vehicle services are available through Ford Commercial Solutions, including electric vehicle data enhancements from Ford Telematics and Ford Data Services.
Remote services like vehicle pre-conditioning, which optimizes cabin temperatures while E-Transit is plugged in to optimize battery efficiency, are also available, as well as charging reports that enable fleet managers to reimburse drivers who bring their vans home and charge them there in the evening.
E-Transit also offers SYNC 4 communications and entertainment technology to commercial vehicles, featuring a standard 12-inch touch screen plus enhanced voice recognition and cloud-enhanced navigation. Both E-Transit software and SYNC 4 will be supported by over-the-air updates.
On the road with navigation enabled, fleets can tap into new Ford Co-Pilot360 technology such as available Intelligent Adaptive Cruise Control with Speed Sign Recognition and Intelligent Speed Assist, which together identify speed limits and automatically change the vehicle speed accordingly.
E-Transit also features additional standard Ford Co-Pilot360 technologies designed to help fleet customers reduce driver-based insurance claims, including Lane-Keeping System and Pre-Collision Assist with Automatic Emergency Braking. Available features include Blind Spot Information System with Blind Spot Assist, a 360-degree camera and Reverse Brake Assist.
Cargo volume and upfits unchanged
Designed for plenty of cargo capacity, the E-Transit battery is located underneath the vehicle body, providing up to 487.3 cubic feet of cargo space inside the high-roof, extended-wheelbase variant.
Ford engineers redesigned E-Transit's rear-wheel drive and rear suspension to optimize cargo space, creating a heavy-duty semi-trailing arm suspension system enabling better steering precision and more confident handling, plus better traction both in laden and unladen conditions.
For those concerned about sacrificing upfits and cargo space because of EV battery placement, no worries. Ford reports that cargo volume and upfit capabilities remain unchanged for its all-electric Transit.
The 2022 E-Transit is scheduled to roll out in late 2021 with a starting MSRP of under $45,000 for U.S. fleet customers and comes backed with an eight-year, 100,000-mile electric vehicle component warranty. Ford did not reveal the price of its chargers.
Sales and service will be offered at Ford's 645 commercial dealers across North America where Farley anticipates plenty of demand.
"We expect the global demand for full size vans will grow another third by the end of this decade including a potential market for more than 1.1 million full-size, fully electric, connected commercial vehicles worldwide," he said.