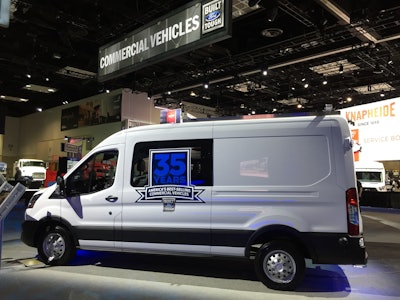 What are some questions that come to mind for electric trucks and vans?
How about vehicle cost, charger cost, infrastructure requirements, max payload, max towing, range, charge times, maintenance, total cost of ownership…these are some of the questions we had in mind when Ford announced its all-electric 2022 E-Transit cargo van at the Work Truck Show in Indianapolis earlier this year.
While at that time Ford wasn't ready to answer those questions, it looks like they'll be willing to play ball in about two weeks during the official reveal on Nov. 12. The virtual public reveal kicks off at 9 a.m. EST at the new Ford Horizon platform. More details to follow on that. In other words, we do not have a link to pass along at this time.
What Ford did tell us in Indy is that the E-Transit will be available in various configurations including cargo van, cutaway, chassis cab, three roof heights and three body lengths.
So far, the Ford E-Transit has the distinction of being the only all-electric van to be offered directly from an OEM. Volkswagen revealed its all-electric ID Buzz Cargo Concept van at the LA Auto Show in 2018. We reached out to them today to see if and when that van might be coming to the U.S. No word yet on that front.
Electric Transits are nothing new. Ford QVM partner Lighting has been producing aftermarket all-electric Transits for the past few years now. Ford QVM partner Motiv has also been busy offering all-electric work trucks and vans built on the E-350 chassis. Ford has also been working the past few years with German shipping giant DHL building thousands of electric vans based on Transit in Europe. In other words, plenty of useful data has emerged prior to Ford's E-Transit launch.