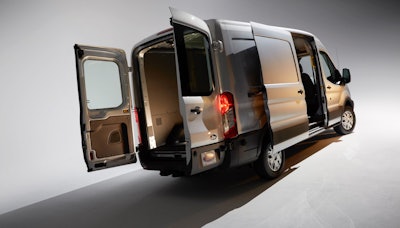 Ford this week begins welcoming nearly 1,000 new employees at its Kansas City Assembly Plant to prepare for the launch of the all-new Ford Transit that goes on sale in the U.S. this summer.
The company says 175 additional employees will be hired by March to help build the Transit.
The Transit draws on its more than 45 years of heritage in Europe, where it is the best-selling medium commercial vehicle nameplate. On sale this summer, Ford says Transit will offer the widest choice of roof heights, wheelbases and body lengths, plus a full suite of onboard features and technologies designed for business. Three powertrains and alternative fuel options will be available.
Transit's cargo volume ranges from about 250 cubic feet to almost 500 cubic feet – more than twice the volume of today's standard E-Series. The Transit will achieve an average of 25 percent better fuel economy and haul at least 300 pounds more than E-Series vans, according to company.
"For decades, Ford E-Series has been the leading choice among business owners for a tough, durable cargo vehicle that also delivers unmatched flexibility and capability," says John Ruppert, Ford general manager, commercial vehicle sales and marketing. "Transit is the natural successor to E-Series, taking flexibility and capability to new levels, while also adding in superior fuel efficiency."
Kansas City Assembly Plant is also home of the 2014 F-150 and will begin producing the all-new 2015 F-150 in the first quarter of 2015.
To prepare for the new van, 300 employees started work at the plant in late 2013, with an additional 300 workers joining the week of Jan. 6 and 400 more this week.
The new jobs also make Ford the top auto employer in Kansas City, the company says.