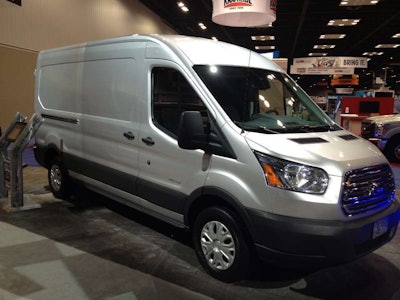 Ford's Transit Connect cargo van isn't even available in the U.S., but it's already been named the best in the world.
The all-new Ford Transit Connect was named "International Van of the Year 2014" at the COMTRANS commercial vehicle exhibition in Moscow Monday.
Ford is the first single manufacturer to win the award for two consecutive years.
Ford registered a record-equalling fifth "International Van of the Year" victory after the jury of 24 European specialist journalists awarded the Transit Connect 130 of a maximum 163 points.
The Transit Connect beat out the Mercedes-Benz Sprinter (123 votes) and Renault Kangoo (25).
The award for the all-new Transit Connect follows previous successes for the Transit (2001), Transit Connect (2003), Transit (2007) and Transit Custom (2013).
"The all-new Transit Connect has moved the game on for compact vans – and we are really proud to win this significant award again," said Barb Samardzich, vice president of Product Development, Ford of Europe.
The new Transit Connect joins a Ford commercial van line in the midst of a facelift, and an all-new four-strong Transit van line that includes the Transit Custom and the forthcoming 2-ton Transit and Transit Courier set for launch next year.
Available in Van, Double-Cab-in-Van and Kombi bodystyles, the Transit Connect offers a load area with total volumes of 2.9 m3 and 3.6 m3 with a full bulkhead; maximum payloads of up to 2,200 pounds match the best in class figure.
"The all-new Transit Connect impressed the jury on a number of fronts, and above all by the fact Ford has succeeded in building a light van with a strong accent on economics – the vehicle is a good answer to the needs of small operators as well as big fleets to reduce the cost of transport of goods," says Pieter Wieman, chairman of the "International Van of the Year" jury.
"The loading space offers several innovative aspects such as load-through hatch in the bulkhead, fold-up front passenger seat and a sliding side door in the long-wheelbase model which enables a Europallet to be loaded," Wieman adds. "Ford has also paid a lot of attention to durability and safety, subjecting the van to commercial vehicle testing and durability standards, and being first in its class to offer features like Active City Stop."
The all-new Transit Connect is now available to order for delivery in late 2013.