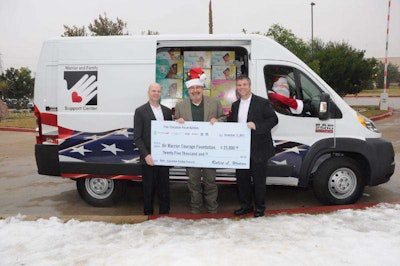 The Ram Truck brand has delivered mounds of fresh man-made snow, a new 2014 ProMaster 2500 Series Cargo Van filled with toys, diapers and other supplies, plus a $25,000 grant from The Chrysler Foundation to support injured U.S. military personnel and their families at the Warrior and Family Support Center at the San Antonio Military Medical Center.
The donations, which were presented to the Air Warrior Courage Foundation, were timed to coincide with the W&FSC's annual holiday party.
"The Ram Brand considers it an honor and a privilege to provide the all-new 2014 ProMaster van to support service members and their families who have played a vital role in in keeping America safe and free," said Reid Bigland, president and CEO, Ram Truck Brand. "In recognition of their distinguished service and personal sacrifices, we've customized the exterior of this ProMaster van with an American flag – inspired vehicle wrap that is sure to get noticed."
The 2014 Ram ProMaster is Ram Commercial's latest addition to its vehicle lineup.
The W&FSC is the community center at the military hospital complex that provides major support to wounded warriors and their families, including emotional support, referrals and rehabilitation to cope with war related disabilities.