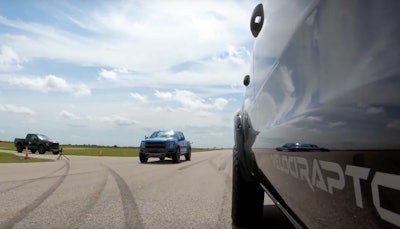 Hennessey Performance Engineering posted video today of its 2019 VelociRaptor Ranger racing and beating a stock 2019 Ford F-150 Raptor.
The race isn't even close. Hennessey took the Raptor's stock 2.3-liter EcoBoost V6 and dialed it up from 270 to 360 horsepower. Torque shot up from 310 to 440 foot pounds. ECU tuning led to more muscle along with a stainless catback exhaust that increases air flow and gets the midsize maverick from 0 to 60 in 4.9 seconds, a two second improvement over stock.
"The VelociRaptor Ranger is so much fun to drive!" said company founder and CEO John Hennessey. "With over 400 lb.-ft. of torque and 0-60 mph performance in under 5 seconds, our VelociRaptor Ranger delivers an impressive amount of smiles per gallon."
Hennessey reports that its VelociRaptor Ranger is so quick that it beat a stock 2019 Ford Raptor with 450-hp in a drag race from 0 to 100 mph.
Hennessey also went big on suspension and got the VelociRaptor six inches higher over stock thanks to Stage 1 off-road suspension and 18-inch alloy wheels paired up with BFG Mud Terrain TA KM2 tires. Rounding out the off-road upgrades Hennessey has also upgraded the front bumper with LED lights and optional winch upgrade.
The price for the 2019 Hennessey VelociRaptor Ranger upgrade is $64,950 which includes a new 2019 Ford Ranger truck. Cost for the VelociRaptor Ranger upgrade by itself is $19,950 plus vehicle shipping. Production is limited to just 500 units for the 2019 model year and each upgrade comes with a 3 year / 36,000 mile warranty.
The Hennessey VelociRaptor Ranger is available directly from Hennessey or from select Authorized Hennessey Performance Ford dealers, including Brown Lee Ford in Nashville, Tenn. For more information, contact Hennessey Performance Engineering at 979.885.1300 or email at [email protected].