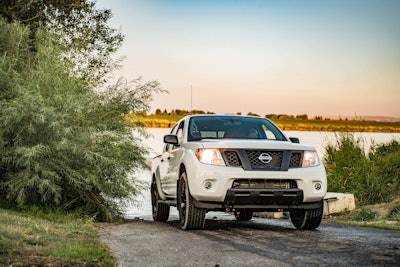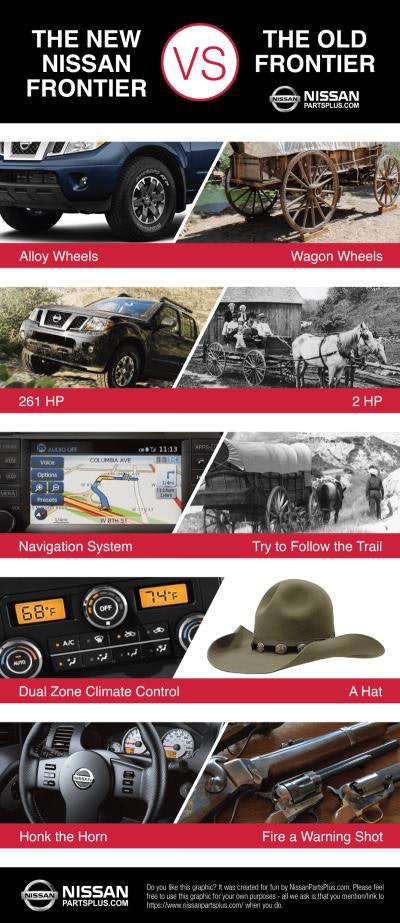 In light of news that Nissan will dramatically update its midsize Frontier pickup for the first time in a decade-and-a-half, NissanPartsPlus.com has compiled a graphic that compares the current Nissan Frontier to the old style frontier that helped win the West.
Though centuries apart, the graphic shows both use some of the best technology for their day.
"Can you imagine the settlers of the 1800s with the Nissan Frontier Pro-X?" asks Steve Ferreira, Parts Director at NissanPartsPlus.com. "Traveling over dirt and rocks, using the navigation system…history books would explain that journey in a much different way. We just thought it would be fun to compare this mid-sized truck to the Old West."
Some highlights from the infographic are:
A Nissan truck has 261 horses under the hood, while a covered wagon had a mere 2 horses to move it along.
The approximately 25-pound alloy wheels of today are compared to the Prairie Schooner's wooden-spoked wheels.
Driver and passenger can enjoy their own preferred temperature with the dual climate zone feature in the Frontier. Pioneers could keep the kids in the covered wagon, but the person steering the team needed a hat to keep the snow and sun off their brow.
"We are excited to see what Nissan develops for the 2020 truck," Ferreira says. "It sounds like there's going to be lots of changes."