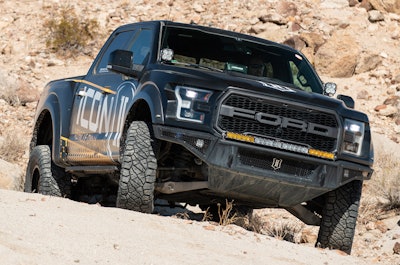 ICON announced that its Impact Series Off-Road Armor bumper is now available for 2017-up Ford Raptor. Check out the details below.
Features:
Modular design with removable/replaceable wings
Maximized ground clearance without cutting of the frame
Increased air flow to the intercooler without the need to relocate
Accommodates a 40" light bar on top of center section
Integrated universal light mounts in wing sections
Comes with radar/ adaptive cruise control bracket
Removable honeycomb mesh front and wing grills to allow for personal customization
Follows OE styling cues & body lines
IMPACT Series Skid Plate covers the lower control arm pivots
Compatible with stock skid plate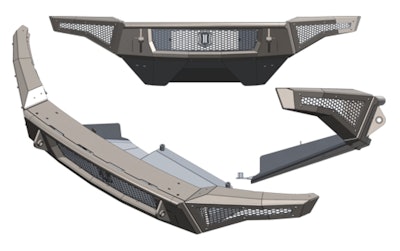 Bumper thickness:
Skin: 1/8" Steel
Recovery tabs: 1/2" Steel
Mounts / Sub Structure: 1/4" Steel
Skid plate thickness:
Recovery points:
Fits standard 7/8″ shackles & accessories
OE recovery points are lowest approach contact point in stock trim, but are relocated higher with ICON Impact Series bumper for improved ground clearance while retaining off-road functionality
Impact Series dimensions versus stock:
Top tube of bumper: +1" further than stock
Bottom of bumper: -1" less than stock (improved approach angle)
Recovery tabs: +2" (higher than stock, providing improved approach angle)
Additional details:
89lbs assembled weight with hardware & radar bracket
Due to packaged dimensions, these components ship freight only!
Lighting options:
Center Section:
KC Hilites: Pro6 LED Bar (7 light configuration) or 40″ C-Series Curved Bar
Baja Designs: ONYX6 ARC 40″ Curved Bar
Other similarly sized & mounted lights
Wing Sections:
KC Hilites: FLEX Series, C-Series (C3, C2)
Baja Designs: S8, S2, Squadron
Other similarly sized & mounted lights
Part number and pricing:
2017-up Raptor Impact Series front bumper
Part # 95150
Jobber / MAP – $1499.95
MSRP – $1574.95
Weight / Dimensions – 104 lbs / 89″ x 26″ x 14″ (L x W x H)
2017-up Raptor Impact Series front bumper skid
Part # 95152
Jobber / MAP – $399.95
MSRP – $419.95
Weight / Dimensions – 30 lbs / 50″ x 29″ x 7″ (L x W x H)
2017-up Raptor Impact Series front bumper w/skid
Part # 95153
Jobber / MAP – $1699.95
MSRP – $1784.95
Weight / Dimensions – 134 lbs / 89″ x 29″ x 21″ (L x W x H)