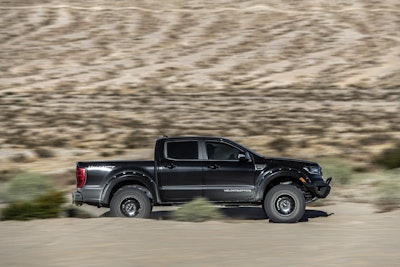 Last year at SEMA, John Hennessey talked about the VelociRaptor. This year, he's been busy showing what it can do.
First, came the video in April where the 360-hp truck beat a stock Ford Raptor in a memorable drag race that recalls racing wisdom of old: stuff a lighter vehicle with a lot of power and watch it fly.
Now, Hennessey's latest video shows the VelociRaptor getting airborne and stirring up plenty of dirt. The video release coincides with Hennessey's announcement to go with Shell Rotella Gas Truck full synthetic engine oil as the official and exclusive engine oil of all of his gasoline-powered trucks and SUV's including the GOLIATH 6X6, VelociRaptor 600, VelociRaptor Ranger and more.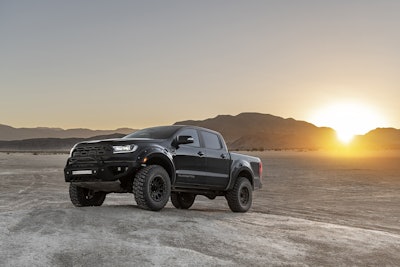 "Powerful trucks and sport utility vehicles continue to be a growing and important part of our business," said company founder & CEO, John Hennessey. "When we found out that Shell Rotella had developed a full synthetic engine oil made exclusively for gas-powered engines, we immediately made the switch. Given Shell Rotella's extensive experience with heavy-duty diesel trucks, we knew that this would be the perfect lubricant for our high-performance trucks and SUVs. Our customers not only want increased power and performance, but they also want to be able to tow trailers, in all seasons and conditions. We are thrilled to announce that Shell Rotella Gas Truck is now the official engine oil for all Hennessey trucks and SUVs."
Shell Rotella is the first major oil brand to introduce a complete portfolio of full synthetic engine oils for both heavy duty diesel engines and gasoline-powered trucks and SUVs. All three grades of Shell Rotella Gas Truck engine oil, 0W-20, 5W-20 and 5W-30, are formulated to provide unsurpassed wear protection in even the most extreme conditions trucks and SUVs face, including heavy hauling, towing, extreme temperatures and off-road.