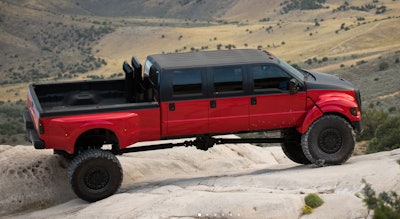 An emissions inspector's testimony against Sparks Motors, the business behind the popular TV show Diesel Brothers, has resulted in a court injunction ordering the shop to stop tampering with emissions systems.
Evan Nelson, an emissions inspector who works for Davis County, Utah, wrote that a 2013 Ram 5500 being offered for sale by Sparks Motors in Woods Cross, Utah was missing its factory-installed emissions treatment system. Nelson said that he had personally inspected the truck in March.
The injunction, ordered earlier this month, comes amid an ongoing lawsuit filed by a Utah physicians group last year which contends that vehicles produced by Utah-based Sparks Motors violate federal emission laws.
Following Nelson's testimony, Utah Physicians for Healthy Environment requested that a district judge issue the injunction which prohibits Sparks Motors from modifying vehicle emissions or selling any vehicles with tampered emissions, according to the standard.net.
Diesel "Dave" Sparks said in a deposition that he modified emissions systems with the understanding that it was legal to do so on vehicles that were intended to be used only in an off-road setting. However, the EPA prohibits tampering with emissions systems regardless where they're used.
Sparks told Hard Working Trucks in 2016 that his company had been working closely with the EPA.
"We are big advocates for not rolling coal. It's stupid. We've all been there," Sparks said at SEMA in November 2016. "Everybody who's owned a diesel pickup has at one point hit the gas, looked out the rear-view mirror and said, 'That's kind of cool.' But it's got to stop there because it's not something that's going to help the industry by any means."
Sparks has not commented publicly on the injunction.