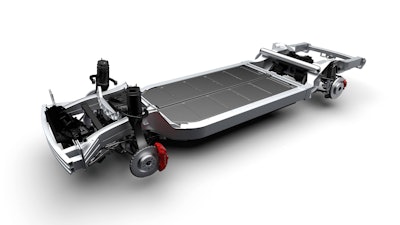 EV startup Rivian, which will be unveiling its 800-hp electric pickup this November at the L.A. Auto Show, revealed the truck's chassis today.
Rivian reported on Facebook that its 'skateboard platform' was introduced by Rivian CEO RJ Scaringe at Lean Enterprise Institute's Designing the Future Summit in Cambridge, Mass.
"It's the backbone of our Electric Adventure Vehicles and it's going to change everything," Rivian writes in a brief Facebook post.
In addition to a pickup, Rivian also plans on producing an SUV on the same chassis.
Aside from hitting 0 to 60mph in 2.8 seconds, Rivian told Engadget that the truck is designed to drive through 3.6 feet of water and take on tough terrain pitched up to a 45-degree angle.
Range for the 800-hp version is rated at 450 miles while a base model 80kWh variant will deliver roughly 200 miles. Prices are expected to range from $50,000 to $90,000. The pickup and the SUV are expected to launch in 2020.
Rivian, which also has locations in Irvine and San Jose, Calif., has attracted experienced auto industry talent including Jeff Hammoud, former chief of design at Jeep, and Mark Vinnels, former executive program director at McLaren.
Rivian was founded in 2009 by MIT graduate RJ Scaringe.