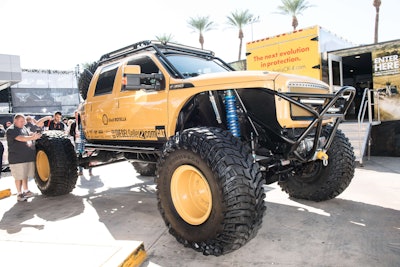 Hard Working Trucks recently met with the stars of the popular Discovery Channel show "Diesel Brothers" and caught up with them on Brodozer, their favorite engines, their most popular builds and the controversial practice of rolling coal.
Brodozer, a 2011 Ford F-350 turned high-performance 4×4, made the trip to SEMA last week where HWT talked with "Diesel Brothers" leading motorheads Dave "Heavy D" Sparks and Dave "Diesel Dave" Stiles inside the Shell Rotella Road Show vehicle. Shell Rotella is one of the premier sponsors of DieselSellerz, the Utah-based business behind the show.
When asked about Brodozer, Diesel Dave explained that the original plan was to turn the F-350 into a rock climber. Reminiscent of a dune buggy, these vehicles are basically roll cages on big wheels built for racing up steep, rocky terrain where sheer horsepower, guts, determination and a little traction defies gravity and some of the biggest obstacles in off-roading.
However, Sparks, the boss who's also known as Heavy D at DieselSellerz, changed his mind and opted to build a beast that would give Jeep enthusiasts a run for their money on the trails in Moab, Utah.
"Jeep Safari was coming up and he (Sparks) wanted to build a vehicle that was better than all the Jeeps. So we pieced that together in two months using all military components," Diesel Dave said.
"We took it out to Moab and just schooled everybody. There wasn't any obstacle we couldn't do. There was nothing that broke on the truck. And that's a first for us. Usually we take it out, test it and if something breaks, we find out what the weak points are. Haven't found it on that one yet. Nothing's ever broke."
Offroad enthusiasts at Moab were impressed, including offroadextreme.com which published an article titled "Diesel Brothers' Brodozer Takes over Moab."
It's hard not to be impressed with Brodozer. Its 54-inch Mickey Thompson Baja Claws are bolted to new Axletech 9-ton planetary axles which give the vehicle an impressive 10-foot wide stance. The 6.7-liter Powerstroke diesel is paired up with an Edge CTS monitor with H&S tuning. An Axletech 2-speed transfer case is mated to Peterbilt drivelines. You can check out more of Brodozer's specs at DieselSellerz classified section, where it's listed for $99,000.
When it comes to naming a preferred engine, Diesel Dave said he's up for anything diesel, but his favorite may surprise you. Zach's Poppin' Johnny Ice Cream booth, a fair favorite, churns ice cream using an antique 1927 John Deere engine.
"That's my favorite," Diesel Dave said.
"It's an old hit-and-miss motor," Heavy D added. "They run on whatever you put in there. They're just very inefficient, but they're cool."
For Heavy D, narrowing down his favorite engine is a little more difficult.
"It depends on the application, but I'm a Detroit guy. I love any Detroit, especially the old 2 strokes. I got a soft place in my heart," he explained. "But the Cummins, as far as like a daily driver and a tow rig, you can't beat the torque curve. I mean you're at 1,800 rpm pulling 40,000 pounds and you just keep going. They just want to run and run and run."
Customers at DieselSellerz have been leaning more towards 12 valve Cummins engines.
"Everybody wants to put a 12-valve in something. We get that request all the time. A 12-valve Cummins motor," Diesel Dave said. "Put a 12 valve in a Jeep, put a 12 valve in my old car, put a 12 valve in something. We get that request all the time."
The most popular builds DieselSellerz has pulled off include the Mega Ram, the Brodozer and the Holy Grail. The Holy Grail wasn't so holy when DieselSellerz first brought the rare truck into their shop.
"That was a '94 Dodge that we got as a crew cab conversion. It was a terrible conversion. An awful job. We went through and cleaned it up. It came from Minnesota. The truck was just falling apart," Heavy D said. "It was the crew cab truck that was never made with a 12 valve Cummins in it. So, we built that truck. And as far as an online following, the truck had more traction than any truck that we've built in a long, long time. And it's pretty simple. It's just a really classic looking, nice truck that people love."
Both Heavy D and Diesel Dave are opposed to rolling coal. It's a topic that Heavy D feels strongly about. In September, "Diesel Brothers" was criticized in a New York Times article that goes so far as to say that those interested in rolling coal can simply turn to the show for guidance. However, in that same article Heavy D states through a representative that there is a misunderstanding regarding the modifications that his shop makes.
"We are big advocates for not rolling coal. It's stupid. We've all been there. Everybody who's owned a diesel pickup has at one point hit the gas, looked out the rear-view mirror and said, 'That's kind of cool.' But it's got to stop there because it's not something that's going to help the industry by any means," Heavy D explained.
"The government agencies that control emissions and that kind of stuff, they don't want to see any of that and so they're not going to let any of this European diesel technology into the states if they see that the U.S. market's going to be super irresponsible with this," Heavy D continued.
"Our number one goal—we work really closely with the EPA—outside and inside of the show—is to say that rolling coal is not cool. Blowing smoke is not cool. Don't do something to your truck that's not only going to potentially hurt the environment, but the industry."
Of course "Diesel Brothers" has enjoyed a strong following in the U.S. But how's the show's fan base in Europe?
"Huge," Heavy D said. "I'm a big fan of European vehicles. I import vehicles from Sweden, Finland—all over the place. Military vehicles. So, I'm pretty familiar with the diesel scene over there, and to them, it's nothing new.
"They've (diesel engines) been around for forever and they look at us like we're a bunch of idiots because we don't run them because they're so much more efficient. And also, I'm glad that it's kind of starting a revolution here."