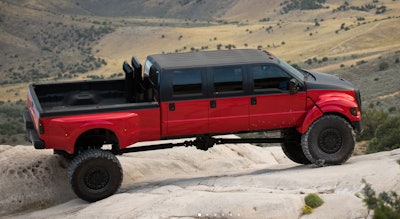 The "Diesel Brothers" have been found guilty of emissions tampering following a lawsuit brought against them by a group of physicians in their home state of Utah.
A federal judge recently decided in favor of Utah Physicians for a Healthy Environment and ruled that several "Diesel Brothers" builds violated state and federal clean air laws.
U.S. District Judge Robert Shelby, an Obama appointee, had ordered David "Heavy D" Sparks and others at the popular TV show in June to stop modifying diesel emissions systems. "Diesel Brothers" gives viewers an inside look at the popular and busy truck shop, DieselSellerz, located in Woods Cross, Utah.
Seventeen trucks were found to be in violation of emissions laws, The Salt Lake Tribune reports. However, not all the trucks were modified by the "Diesel Brothers," according to an attorney representing the group.
Shelby's decision brings roughly $100,000 in civil penalties.