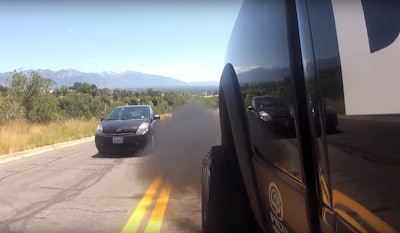 When Hard Working Trucks interviewed the Diesel Brothers at SEMA in 2016 they spoke out against rolling coal and said it was bad for the industry.
But now it looks like that smoke-free stance has done little to help the popular truck builders who are currently caught up in a judicial penalty phase after being found guilty of illegally tampering with diesel exhaust emissions systems.
And the optics—literally—are not looking good courtesy of their own media content.
An attorney for the Utah Physicians for a Healthy Environment, which brought their lawsuit against the Diesel Brothers in 2017, recently informed a federal court in Salt Lake City that a video showing a diesel truck smoking out a Toyota Prius remains posted on their YouTube channel despite their ongoing objections to rolling coal.
The 44-second long video on the DieselSellerz channel, which has racked up nearly 800,000 views and 3,500 likes, was produced as a promotional spot for the Diesel Brothers truck giveaway contest. The description reads: "What do you do when you see a dorky Prius driver? Watch the #BuiltDiesel smoke out a Prius."
An actor driving the car is seen holding a plant and wearing a green shirt that reads 'In my Prius, every day is Earth Day.' A few seconds later a heavy-duty Ram pickup with the name DieselSellerz on the side emerges into view and unleashes a stream of dark smoke after passing the small hybrid. The actor is later shown on the side of the road sans dirty face presumably blackened by diesel exhaust.
David Sparks, who's also known as "Heavy D," objected to the video in court last month according to the Standard-Examiner.
"It's not the way that I would do it," Sparks said when confronted by attorney Reed Zars. "I hate that video. I always have."
Yet the clip remains posted for the whole world—and Chief Justice Robert Shelby for the U.S. District Court of Utah—to see.
Adding to his woes, Sparks was also briefly charged with contempt of court which was dismissed after he informed Shelby, a Republican, that he could not break a commitment at SEMA to meet his original court date.
Sparks was also confronted with passages from a book he co-authored with his business partner Diesel Dave. Zars said that "The Diesel Brothers: A Truckin' Awesome Guide to Trucks and Life" describes how the Diesel Brothers profited from merchandise sales following the launch of their truck sweepstakes in 2013. Sparks said the ghost-written book is not a "form of accounting" that he recognizes and that he's not entirely sure how much money his company has made from merchandise and ad sales.
The Diesel Brothers have admitted to selling or giving away 17 trucks with illegally altered exhaust systems. They were found guilty of Clean Air Act violations which carries a maximum fine of $100,000. During the penalty phase, Sparks' attorneys have challenged the notion that his trucks have damaged the environment.
During an interview with Hard Working Trucks at SEMA in November 2016, Sparks rejected the practice of rolling coal.
"We are big advocates for not rolling coal. It's stupid," he said. "We've all been there. Everybody who's owned a diesel pickup has at one point hit the gas, looked out the rear-view mirror and said, 'That's kind of cool.' But it's got to stop there because it's not something that's going to help the industry by any means."