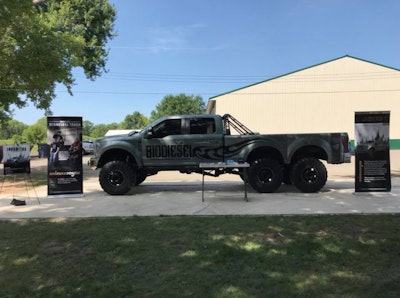 A ten-foot bed? Why not?
The Diesel Brothers biodiesel-fueled Indomitus has, as expected, some impressive specs. The truck was built for the Minnesota Soybean Research & Promotion Council and toured the state this summer promoting biodiesel where a B20 blend was introduced in May.
The Ford F-550 6×6 will be on display this Saturday at Beards, Biodiesel and Bandit Big Rig Racing at the Elko Speedway in Elko New Market, Minn.
Specs include a stock 6.7-liter Power Stroke, stock 4.88 axles, 40-inch tires, air bag suspension and a custom four-link suspension. Check out the video below for a closer look.
During its summer tour, Indomitus has carried signs in its truck bed touting the environmental benefits of B20.
According to the U.S. Department of Energy's Alternative Fuels Data Center, biodiesel offers emissions benefits that are commensurate with the blend level. For instance B20 has 20 percent of the emissions reduction benefit of B100.
Regulated fleets that use biodiesel blends of 20 percent (B20) or higher qualify for biodiesel fuel use credits under the Energy Policy Act of 1992.
https://twitter.com/DieselBrosTV/status/1032296341559369728