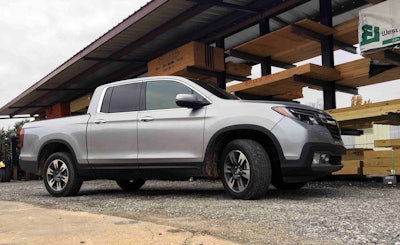 Honda's second generation Ridgeline pickup, which made its debut for the 2017 model year, is the ultimate tweener pickup.
The mid-size, four-door, unibody pickup complete with a trunk is nearly as much SUV as it is truck, and apparently hits a sweet-spot with Eat Coast buyers.
Analyzing data from 2016 and 2017, HondaPartsOnline.net studied where people who search for Honda Ridgeline repair parts live. They then compared that information with U.S. Census data to get the results on a per-capita basis.
"The Ridgeline is a pickup but it has some SUV-like features," says Cesar Aranda, director of HondaPartsOnline.net. "It doesn't come in a two-door model, it rides like a dream … We were wondering just who drives Ridgelines and thought breaking it out by state might give us some insight."
Topping the chart per capita for Ridgelines, as of the end of 2017, is the District of Columbia. Florida, Ohio, Pennsylvania, New Jersey, New York and North Carolina also rated highly for having a large number of Ridgelines per capita and total Ridgeline drivers:
"We were surprised at how popular the Ridgeline is on the East coast," Aranda says. "We're in Texas and see quite a few around here. We don't have a clearer picture of Ridgeline drivers but if folks on the East coast are using it as a daily driver, it makes sense. It's economical, roomy, and supposed to do well in the snow."