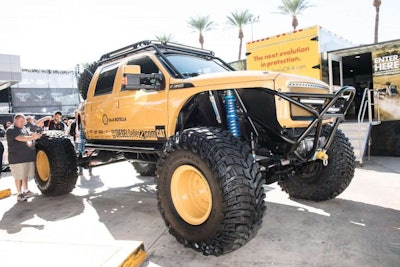 The stars behind the popular Discovery Channel show "Diesel Brothers" are facing a federal lawsuit brought by a group of physicians in their home state of Utah.
Utah Physicians for a Healthy Environment (UPHE) claim in their lawsuit that the business portrayed on the show, DieselSellerz, has modified diesel truck engines to the point that they violate federal emissions laws.
In October, DieselSellerz owner David "Heavy D" Sparks told Hard Working Trucks that they work closely with the Environmental Protection Agency and do not support practices that will hurt the diesel industry as a whole.
"Diesel Brothers" has taken on critics before who contend that they've made illegal emissions modifications. A New York Times article in September reports that the show advocates rolling coal, the controversial practice of releasing dark diesel exhaust into the air. It's a claim that the pickup builders vehemently deny.
"Our number one goal—we work really closely with the EPA—outside and inside of the show—is to say that rolling coal is not cool. Blowing smoke is not cool. Don't do something to your truck that's not only going to potentially hurt the environment, but the industry," Sparks told HWT.
"Diesel Brothers" gives viewers an inside look at the popular and busy truck shop, DieselSellerz, located in Woods Cross, Utah.
The lawsuit brought by UPHE not only targets the stars of "Diesel Brothers," but also their businesses: DieselSellerz.com LLC, Diesel Power Gear LLC, 4X4 Anything LLC and Sparks Motors LLC.
UPHE, which reports having over 2,000 physicians in its membership, claims that DieselSellerz has marketed illegally modified trucks online on eBay and other websites. UPHE reports that they have copies of some of those ads, according to the Salt Lake Tribune.
96845