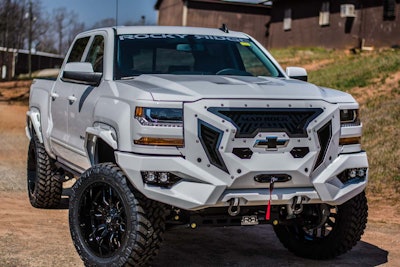 Vehicle upfitter Rocky Ridge Trucks unveiled new custom truck packages today at the 2018 NADA Convention in Las Vegas.
The new packages are:
The Chevrolet Silverado 1500 Mad Rock, a Silverado upgrade featuring a 6-inch Rocky Ridge suspension lift kit paired with a custom-designed Grumper (grill/bumper combo) designed in collaboration with Fab Fours, ViCowl windshield surround, Fuel Wheels, and custom-designed steel fender flares.
The Diablo for the Silverado 1500, Sierra 1500 and Ford F-150, built on the back of all-new, race-inspired Rocky Ridge 2.5-inch monotube shocks. The 2.5-inch seamless alloy body and 7/8-inch shaft bolster ride quality and stability both on and off the road.
The Mad Rock Silverado will be on display at the Las Vegas International Airport during the NADA Convention March 22-25. More information and photos are available at www.rockyridgetrucks.com.