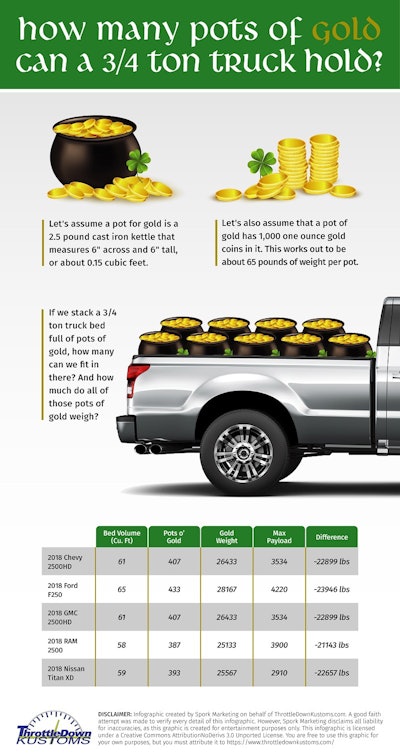 What better way to celebrate in the spirit of St. Patrick's Day tomorrow than to ponder how many pots of gold would fit in a three-quarter ton pickup?
That's going to take a lot of math and, fortunately, the folks at Throttle Down Kustoms did all the heavy lifting in that department, calculating the value of a payload capacity bursting bed full of gold in the new Ford F-250, Chevy and GMC 2500 HD base models, Nissan Titan XD and Ram 2500.
"Cargo space and payload are two of the most important things truck owners want, so we thought this would be fun way measure just how much these 2018 trucks can handle," says Jeremy Pulse, owner of Throttle Down Kustoms.
Pulse and his crew figured a 6-inch x 6-inch cast iron kettle weighs 2.5 pounds. Add 1,000 1-ounce gold coins to the pot for a total weight of 65 pounds per pot. Then, they had to calculate the cubic feet of each truck bed and stack up as many pots of gold as possible before multiplying the stacked pots of gold by 65 pounds for total weight.
Of course, a truck bed stacked to the hilt with gold would far surpass the axles', tires', transmissions', suspensions' and frames' ability to support all that weight.
"This is where our math got fun," Pulse says. "All these automakers offer three-quarter ton pickups with a decent payload for hauling dirt, lumber, or some furniture, but if you've got cast iron pots of gold you're going to need another way to move them."
Here's the bed size and pots-of-gold capacity for each model as well as the frame-breaking weight of each load:
2018 Chevy 2500 HD – 61 cubic feet + 407 pots of gold = 22,899 pounds more than max. payload
2018 Ford F-250 – 65 cubic feet + 433 pots of gold = 23,946 pounds over max. payload
2018 GMC 2500 HD – 61 cubic feet + 407 pots of gold = 22,899 pounds more than max. payload
2018 RAM 2500 – 58 cubic feet + 387 pots of gold = 21,143 pounds over max. payload
2018 Nissan Titan XD – 59 cubic feet + 393 pots of gold = 22,657 pounds more than max. payload