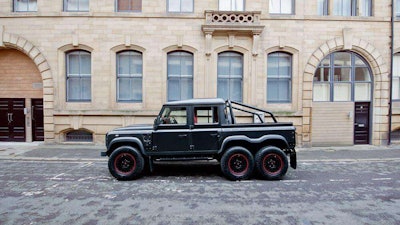 John Hennessey has made one. The Diesel Brothers have also cranked one out. And now an independent British automaker has joined the ranks of the head-turning 6×6 truck market.
Chelsea Truck Company posted a video (shown below) of their Defender Flying Hunstman 6×6 on St. Patrick's Day, and with any luck, they'll sell plenty of the vehicles built off the Land Rover Defender.
Though few specs are listed, Chelsea reports that a range of engines will be available for the coach-built truck which can be optioned with either a six-speed manual or five- or five-speed automatic transmission and left or right-hand steering.
An X-Lander front grille with headlamp surrounds is found in the front along with a replacement front bumper with tron ring lights, fog lights and Shadow Chrome headlights.
The interior includes GTB Sports seats along with specially made passenger dashboard top and grab handles, door handles and a center glove box.
Chelsea has also gotten attention recently for its Jeep Wrangler Jet Black "Black Hawk" Edition.
Other features of the 6×6 Flying Huntsman:
Hard Wearing Front & Rear Cabin Floor Mats
Passenger Dashboard Top & Grab Handle in Leather with Almandine 100% Wool
Custom Extended Bonnet
Bonnet Vents with Mesh – Stainless Steel
Front Bumper Replacement including Bumper Lights – Stainless Steel
Key Ring – Enamel with CTC Logo Quilted & Perforated Leather
Modified Chassis Extended 400mm
Custom Electronic Differential – Switchable Six Wheel Drive
Rear Door Panel & Handle in Leather with Almandine 100% Wool Insert
Roof Headlining Re-upholstered in Quilted Black Leather
Flying Huntsman Rigid Spare Wheel Cover
Twin Crosshair Exhaust System in Stainless Steel inc. Exhaust Shields
Complete Colour Change – Our signature Cromax® paint finish
Custom Alloy Front Wings
Centre Glovebox in Quilted & Perforated Leather
Heated Front Seat Elements
Extended Bonnet Release Cable
Instrument Binnacle in Nappa Leather
Lined Load Area – Black Wood Effect with Red Pin Stripe
Flying Huntsman Rev Counter Dial